How do I completely remove AnyDesk from Windows?
AnyDesk is one of the fastest free remote applications which allows unattended remote access for Windows computers. However, it seems that many users have problems with how to remove AnyDesk completely from laptop. Some of them have problems with the uninstallation process, while others have problems after the program is removed. So how to remove AnyDesk completely from PC? This article will describe how to remove AnyDesk completely from Windows, Mac, Linux, and a phone.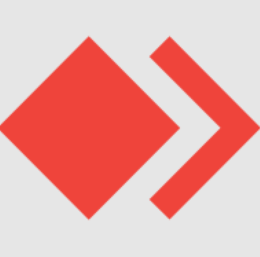 How to remove AnyDesk completely from Windows [4 methods]
AnyDesk removal has been a tough problem on your computer? Do you require a simple, quick method to successfully uninstall AnyDesk? Don't worry, you will be able to solve how to remove AnyDesk completely via the following methods.
Method 1. Uninstall AnyDesk via Applications and Features/Programs and Features
Step 1. Search for "Apps and features" under the Start Menu.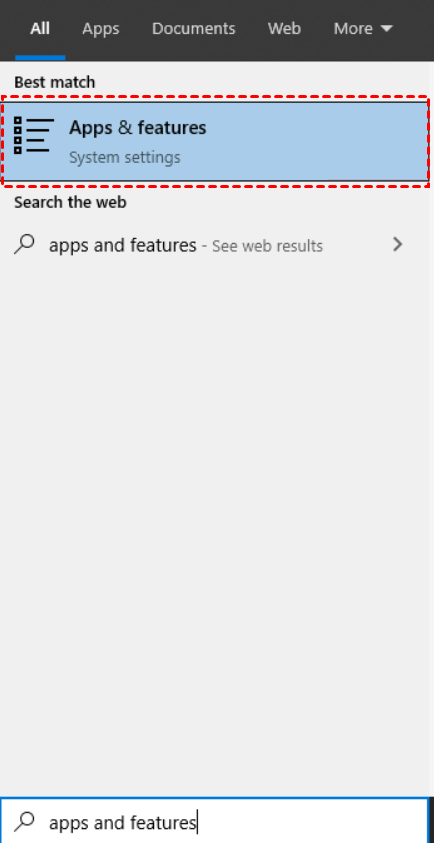 Step 2. Located AnyDesk in the list and click on it. The next step is to click on the "Uninstall" option, initiating the removal process.
Method 2. Use uninstaller.exe to uninstall AnyDesk
Most computer programs have uninstall.exe or uninst000.exe in their installation folder. you will need to execute these files to begin the uninstallation process. The steps are as follows:
Step 1. Go to the AnyeDesk installation folder. Most of the time it is located in C:\Programs files or C:\Program files(x86)
Step 2. Located uninstall.exe or uninst000.exe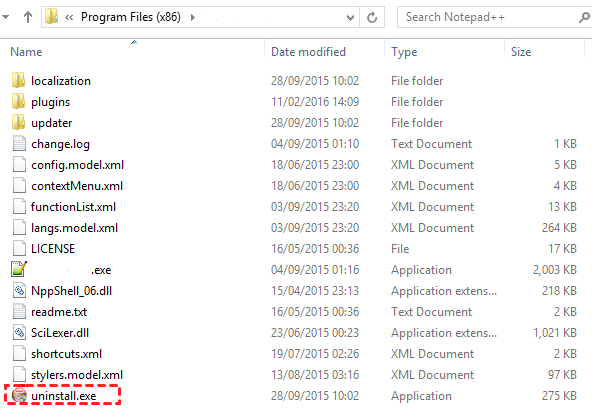 Step 3. To begin the uninstallation process, double-click the file.
Method 3. Uninstall String with Run
Step 1. Simultaneously press the "Win+R" keys to open the Run dialog box.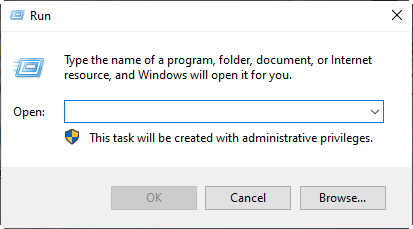 Step 2. Copy this uninstallation string and paste it into the Run command window and click "OK"
"C:\Program Files (x86)\AnyDesk\AnyDesk.exe" --uninstall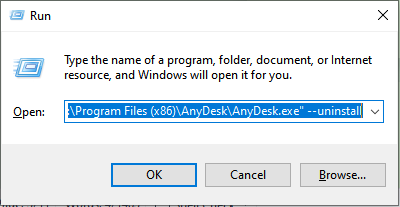 Step 3. To finish the uninstallation, adhere to the directions.
Method 4. Uninstall AnyDesk using a third-party uninstaller
If you want to completely avoid the risks of manual removal, and handle the AnyDesk uninstallation with greater ease and speed, then using a professional uninstaller will help you greatly. It will allow you to solve the problem of how to remove AnyDesk completely from PC in a much faster way.
Bloatware Uninstaller is an advanced uninstallation utility that can provide a good method of how to remove AnyDesk completely from laptop/PC:
Step 1. After installation, launch Bloatware Uninstaller to examine what applications are already installed on your computer.
Step 2. Click "Run Analysis" after selecting AnyDesk from the list. It will scan all relevant files and prepare them for your next request.
Step 3. After completing the scan, please click the "Complete Uninstall" button on the right to continue.
Step 4. When the "Scan Leftovers" button turns blue, click "Scan Leftovers" to see all the relevant traces that may be left by a regular removal.
Step 5. To completely delete AnyDesk, select "Delete Leftovers" next.
How to remove AnyDesk completely from Mac/ Linux/phone
Apart from the above methods to uninstall AnyDeskfrom Windows devices, this article will talk about the following ways to help you solve how to remove AnyDesk completely from other devices and systems, including Mac, Linux, and a phone. You can choose according to your device system.
How to remove AnyDesk completely from Mac
Removing applications on Mac is very simple for experienced users, but it may be unfamiliar to newbies. This page describes how to remove AnyDesk completely from Mac. If you don't know how to do it correctly, or if you have trouble getting rid of AnyDesk, the removal solution provided in the post may be helpful.
Method 1. Delete AnyDesk by long pressing it
If you got this AnyDesk application via the Mac App Store, there is a specific way to allow you to remove it on the computer.
Step 1. If the application is currently running on your computer, right-click on its Dock icon and choose Quit.
Step 2. Click on the Launchpad icon in the Dock, and find the AnyDesk icon
Step 3. Hold down the app icon until all the icons start to jiggle, then click the delete button at the top left corner. And to complete the removal, click "Delete" once again in the pop-up box.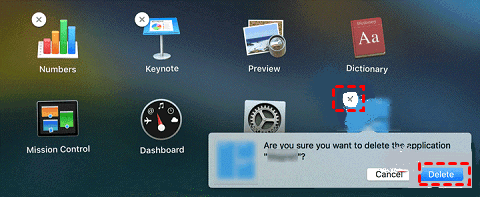 Method 2. Remove the AnyDesk from the Finder
Typically, installed applications should be placed in the Applications folder in the Finder, so you have the option of looking for the AnyDesk program in there and moving it to the Trash to remove it.
Step 1. Select "Applications" from the left-hand menu after clicking "Finder" in the Dock.
Step 2. Drag the AnyDesk icon to "Trash" after locating it in the folder. If you are asked to confirm that you want to delete, enter your account password. And click "OK" to remove it from the Trash.
Step 3. Finally, right-click on the Trash icon, and select "Empty Trash".
How to remove AnyDesk completely from Linux
If you are using a Linux system, you can follow the steps below to remove AnyDesk completely.
Step 1. Open command terminal
Go to Activities and search for "Terminal" or simply use the keyboard shortcut "Ctrl+Alt+T"
Step 2. Then enter the following command to uninstall it and delete its repository.
sudo apt-get remove anydesk
sudo rm /etc/apt/sources.list.d/anydesk-stable.list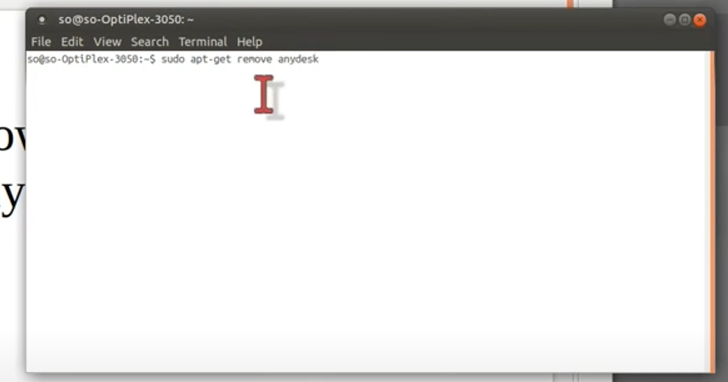 How to remove AnyDesk completely from Phone
If you want to remove AnyDesk completely from your iPhone, follow these steps:
Method 1. Long-press to uninstall AnyDesk
On your home screen, tap and hold AnyDesk until it starts shaking. Once it begins to shake, you will see an "—" mark at the top of the app icon. To remove the AnyDesk app from your phone, click the "—" button.
Method 2. Uninstall in phone storage
Go to "Settings" and click on "General" then click on "iPhone Storage". The list of all the installed apps on your iPhone will then appear as you scroll down. Tap an app and choose Uninstall to remove it.
Bonus tips: Best free AnyDesk alternative
Another free remote desktop software you should know is AnyViewer. AnyViewer is a commendable alternative to the freeware AnyDesk, offering a full-screen mode for an immersive remote desktop experience. You can establish a one-click remote connection if both devices are logged into the same AnyViewer account. Since AnyViewer offers a wide range of remote access, remote control, and remote support options, it is strongly advised. For Windows, iOS, and Android, it is a dependable and secure remote desktop application.
★Let's take a quick look at the features of AnyViewer Free Edition:

AnyViewer provides high-speed remote connectivity, support, and control.
Two computers can initiate control of one computer at the same time.
Two computers can be controlled by one computer simultaneously.
AnyViewer supports file transfer.
During remote sessions, AnyViewer also enables real-time text chat conversations facilitating real-time collaboration and support between users.
AnyViewer supports one-click access to unattended computers.
Step 1. On both computers, Install and start AnyViewer. Go to "Login" on both computers and click on "Sign up" (if you have already joined its official website, you can log in immediately).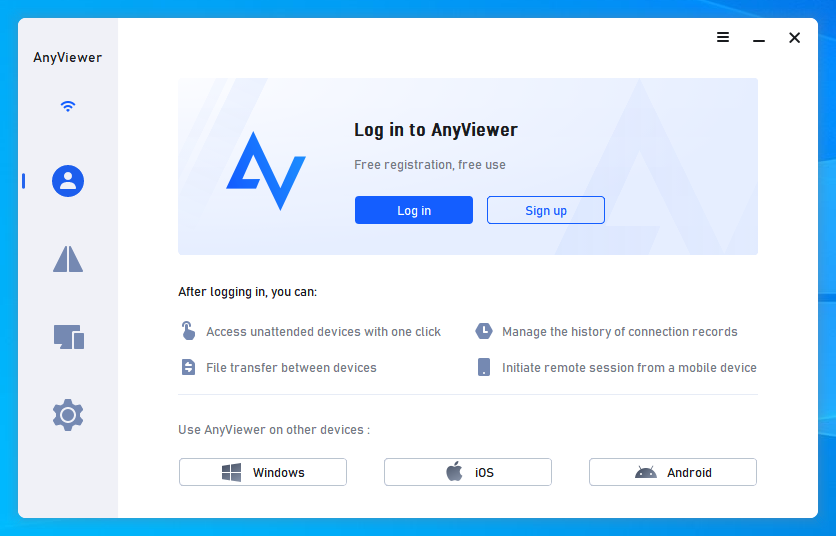 Step 2. Fill out the signup form and click "Sign up" to create an AnyViewer account.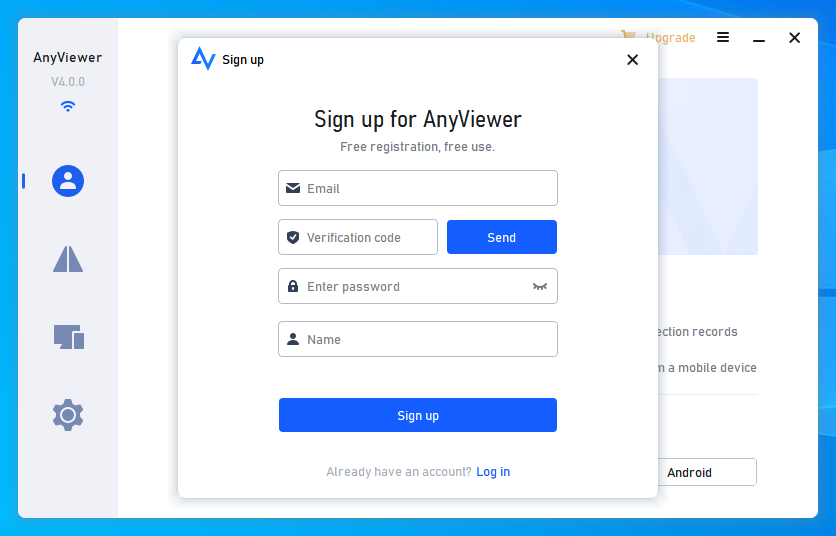 Step 3. You should now see that you have successfully logged in to AnyViewer. The account that you used to log in will be automatically assigned to your device.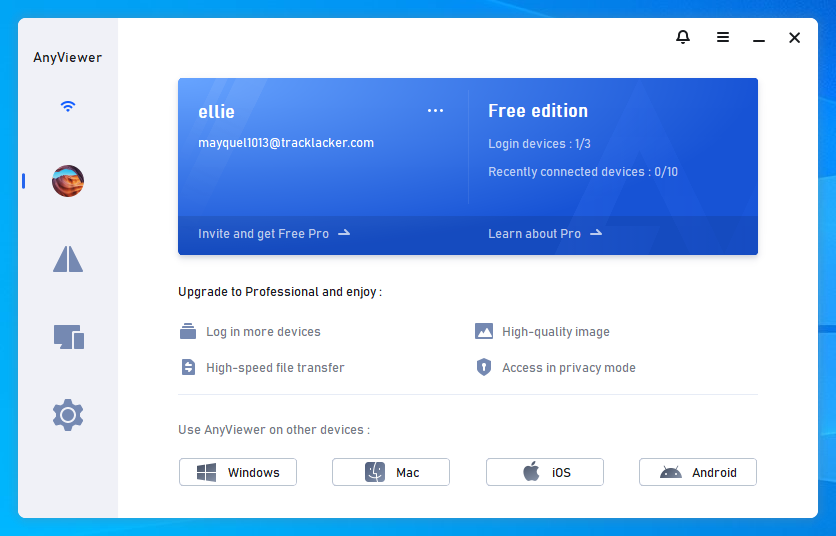 Step 4. Then find "Devices" and select the computer you want to connect to. For unattended remote access, click on it and select "One-Click Control".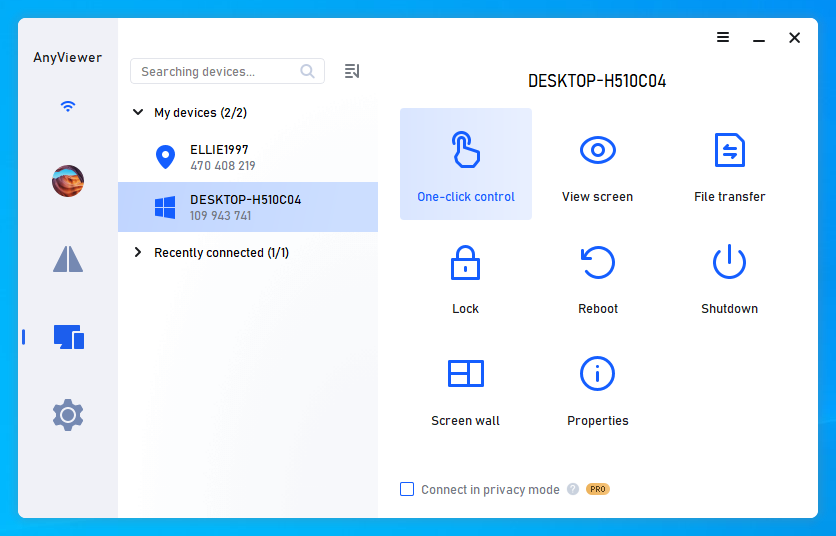 Tips: It is advised that you update your account to a professional or enterprise plan:
For unattended access, more devices may be added to the same account.
Multiple devices can connect to one device at once.
Enjoy many useful features such as Privacy Mode, which allows you to disable the keyboard and mouse on the remote PC and black out the remote screen.
Transfer 1TB files at 10 MB/s.
Conclusion
Now you may figure out how to remove AnyDesk completely using several of the above methods. To avoid trouble, it is recommended that you use another reliable AnyDesk alternative instead, AnyViewer could be your first choice in this case. With it, you will enjoy a smooth and stable secure remote connection.