How do I change the resolution of an RDP session?
Hi. Is it possible to modify the Remote Desktop Connection's default resolution? I want to change Remote Desktop resize to fit screen. Thanks for any advice."
- Question from Windows Forum
How to change display settings Remote Desktop
RDP is widely used to set up remote desktop connections between PCs, here in this part, we will show you how to change display settings Remote Desktop before operations.
Step 1. Search Remote Desktop Connection in the search bar, and Open it.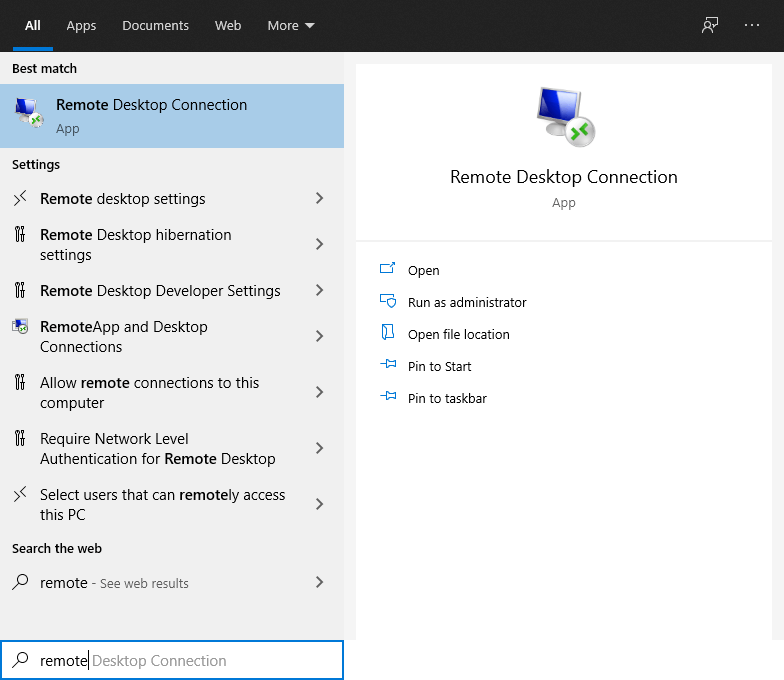 Step 2. Click Show Options.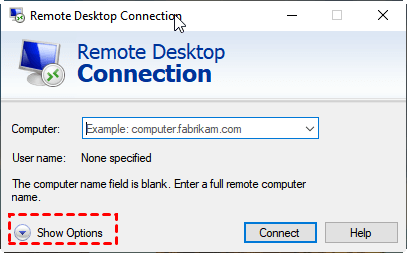 Step 3. To change display settings Remote Desktop Windows 10/11, go to Display tab. You can grad the slider under Display configuration to adjust the size of your remote desktop.
Step 4. Back to General tab, and click Save to refresh the settings.
AnyViewer - Flexibly change display settings in a remote session
Since RDP does not support display settings in a remote session, which means you may not get a accurate resolution for each connection. Therefore, here we recommend you use AnyViewer to flexibly change display settings including resolution, image quality, and auto-adapt screen, during a remote connection with ease.
More benefits of AnyViewer:

Over-Internet. It supports remote connections in different networks without setting up VPN or port forwarding.
All-in-one. It can meet all your demands for a remote desktop software, such as unattended remote access, fast file transfer, and screen sharing.
User-friendly. It offers several considerate shortcut operations in a remote session, you can chat, open Task Manager, logout remote computer, etc.
Multi-sessions. It allows simultaneous multiple sessions, which means you can separately control multiple computers at once.
Compatible. It also enables remote control Windows computer from iOS/Android devices.
Safe & Stable. It is developed by a professional technical team and secured by ECC encryption, promising you a safe and stable connection without interruption and data leakage.
Download AnyViewer on your devices, and we will guide you how to change display settings in a remote session.
Step 1. On the host computer, go to Log in on the left pane, and click Sign up.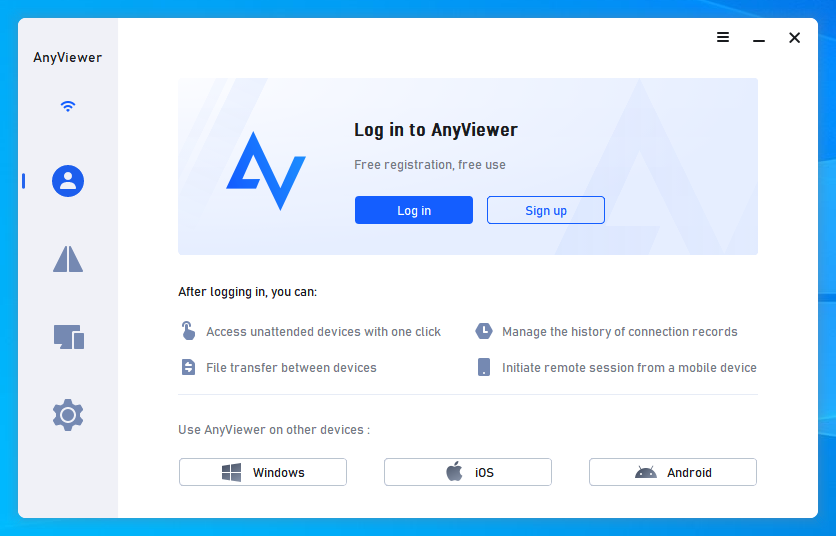 Step 2. Fill in the required information and click Sign up.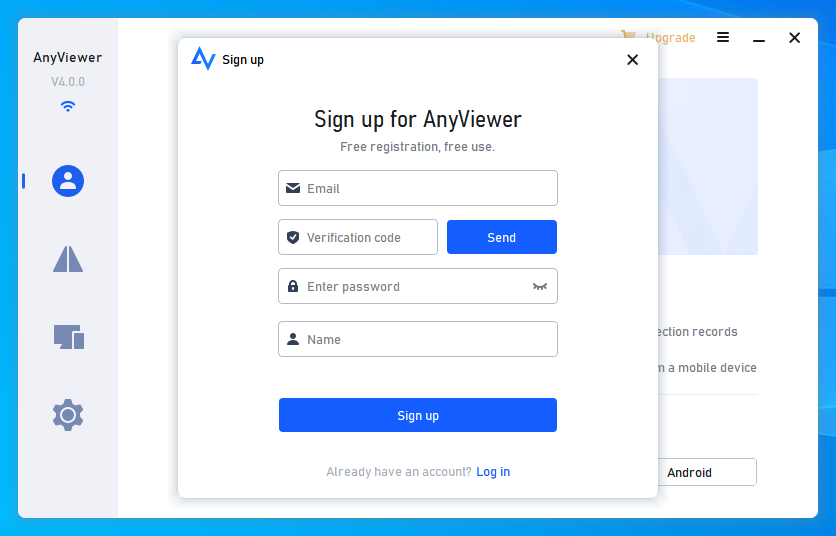 Step 3. On the client computer, log in to the same account, and here you can also see the assigned devices.
Tips:
It is recommended upgrade to a
Professional or Enterprise plan
to assign up to
100
devices, which is more convenient when you need to manage multiple devices.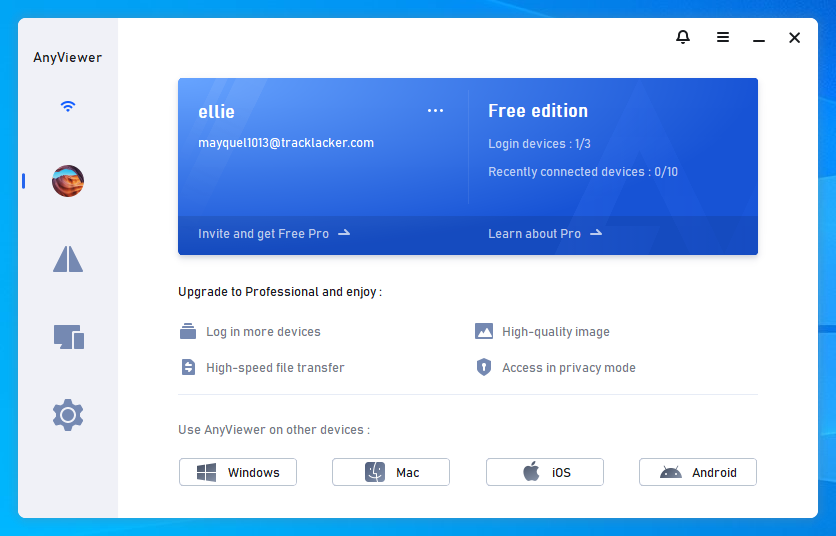 Step 4. Go to Device, click the computer you want to connect to, and click One-click control to perform unattended remote control.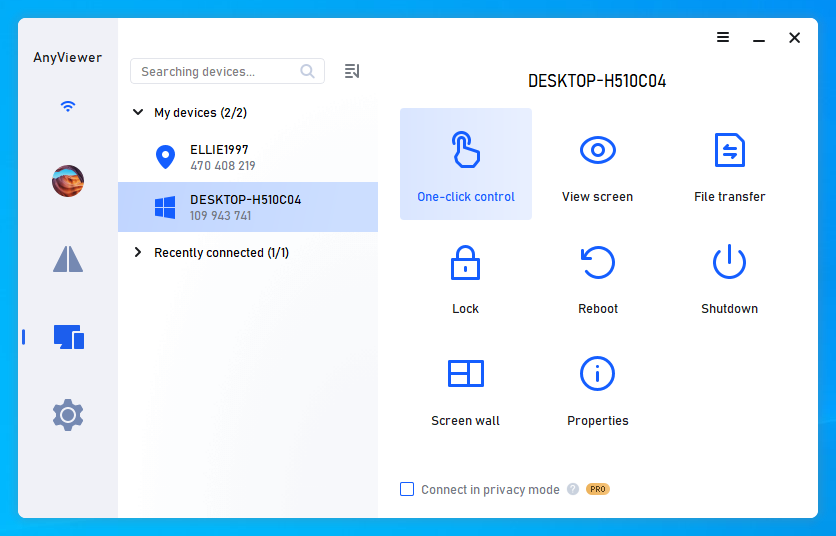 Step 5. Now you can see the remote computer and easily control it like you were sitting in front of it. Whenever you want to change the resolution of the remote desktop, open the upper toolbar and click Screen. If you don't know the resolution for certain, you can click Adaptive to automatically adapt the screen.

You can also click Mode to change the image quality in time according to your network condition.
As we said before, AnyViewer for mobile allows you to easily remote access computer from your phone or tablet devices, and you can also change the display settings during the controlling.
Click the third operation icon, and then you can change the image quality, resolution, and rotate screen, etc.
Conclusion
This post introduces how to change display settings Remote Desktop. You can set the related display settings of Remote Desktop before establishing a connection. However, RDP does not support change display settings during a remote session. Therefore, we recommend you use professional remote desktop software AnyViewer to conveniently change resolution and image quality in a session.