How can I share my iPhone screen?
Sometimes, we share our iPhone screens for different purposes. For example, we might need to share our screens with others to carry out teamwork, or we might just want to share iPhone screens on computers to view pictures and play games on big screens.
How can I share my iPhone screen? You don't have to be tech-savvy to share an iPhone screen with another iPhone, a Windows PC, or a Mac if you have found the right way. So, in this article, we are going to take a look at the easiest way to share iPhone screen in just a few simple steps.
How to share iPhone screen with Windows/Mac/iPhone
Let's take a look at how to share an iPhone screen with a Windows PC, a Mac, or another iPhone.
Part 1. Share iPhone screen with Windows via AnyViewer
AnyViewer is a free and powerful remote desktop software. It allows you to share your iPhone screen with Windows, regardless of your location. Of course, AnyViewer is more than this. It is also a remote control tool, a file transfer tool, and a remote management tool. It is an all-in-one tool no matter you need to work remotely or provide remote support.
Follow the steps below to get started.
Step 1. Download AnyViewer Windows edition on your PC. Install and fire up it.
Step 2. On your PC, sign up and fill in the information to create an AnyViewer account. Once logged in, the PC will be assigned to the account automatically.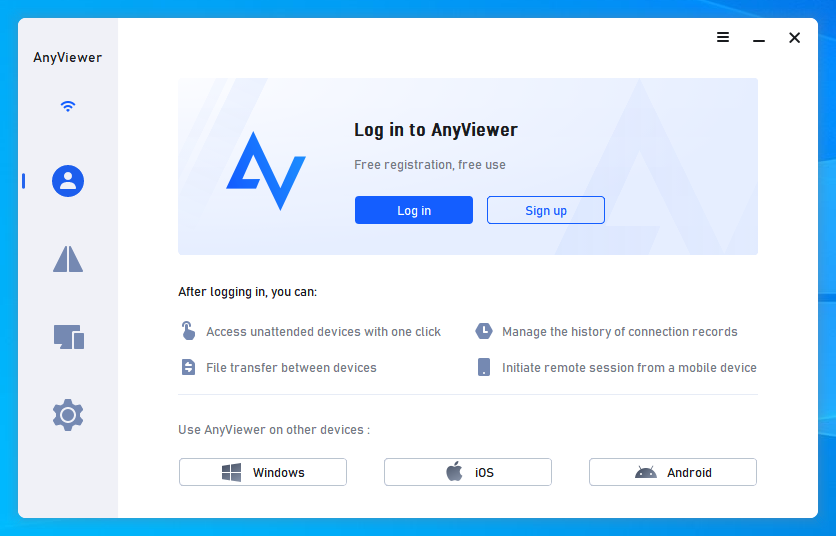 Step 3. Download AnyViewer iOS on your iPhone. Install and run it. Enter the Email and Password to log into the same AnyViewer account on your iPhone.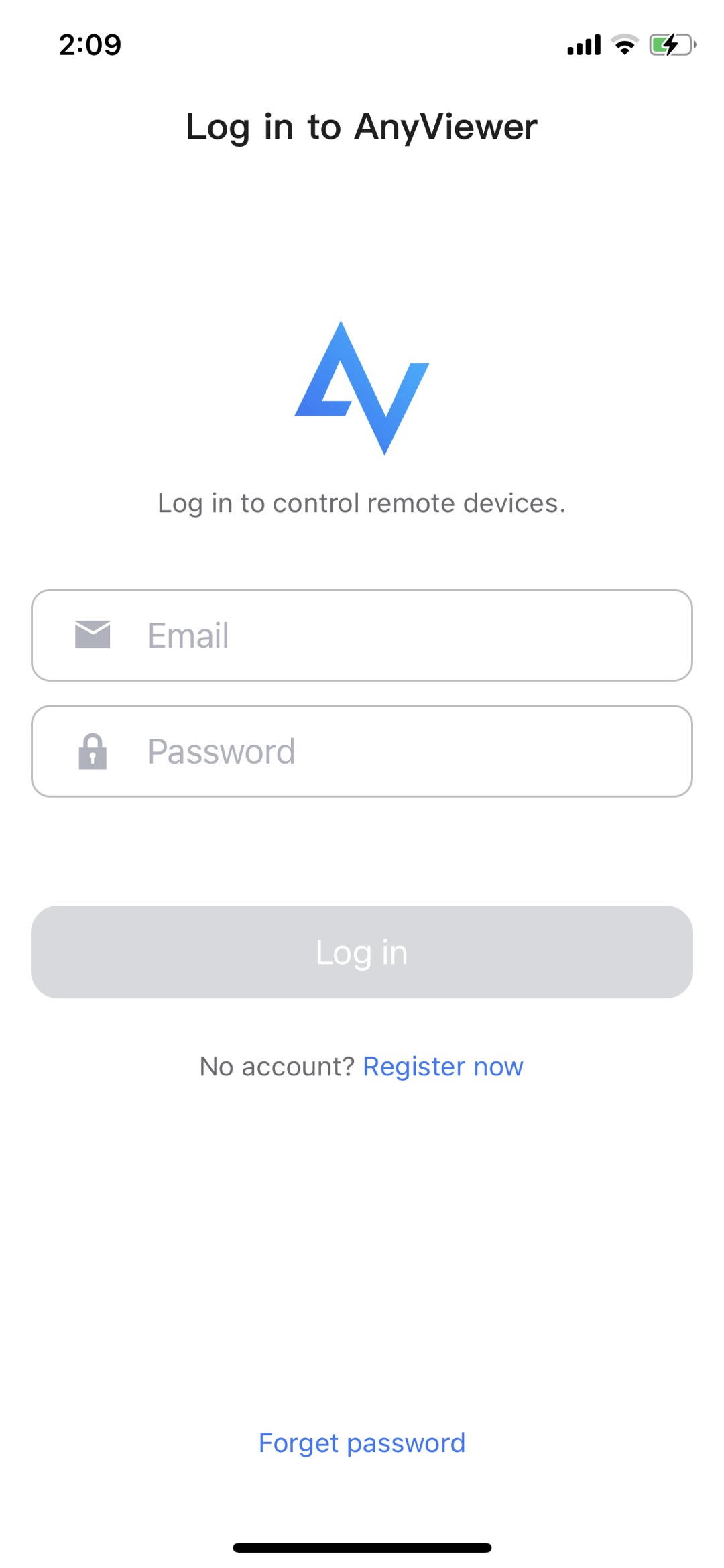 Step 4. Go back to your PC, find your iPhone, and choose View screen.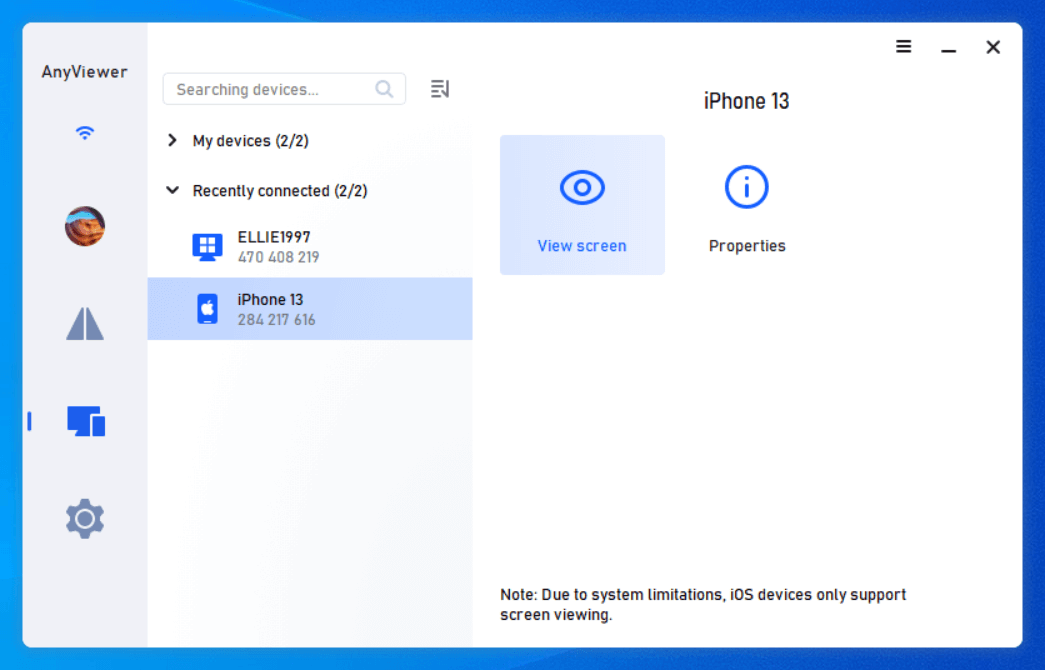 Step 5. On your iPhone, Allow the request to view the screen.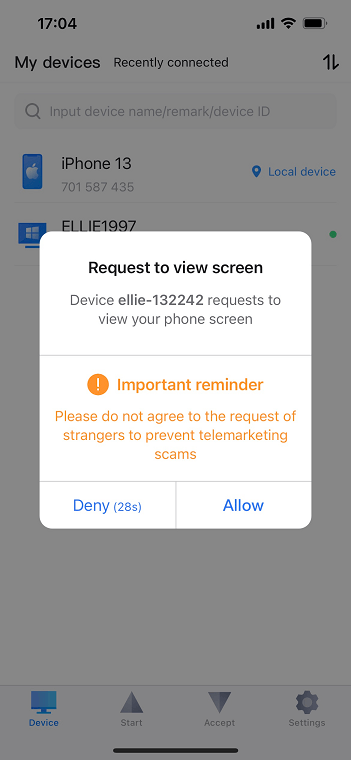 Step 6. Click Start Broadcast.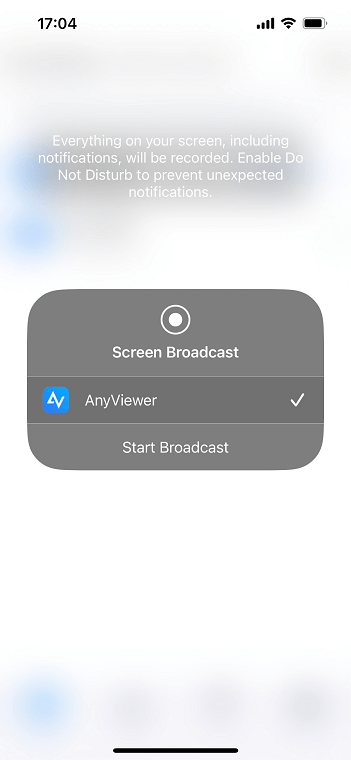 Step 7. Then you can view the iPhone screen on a PC remotely. You can also change image quality on the toolbar.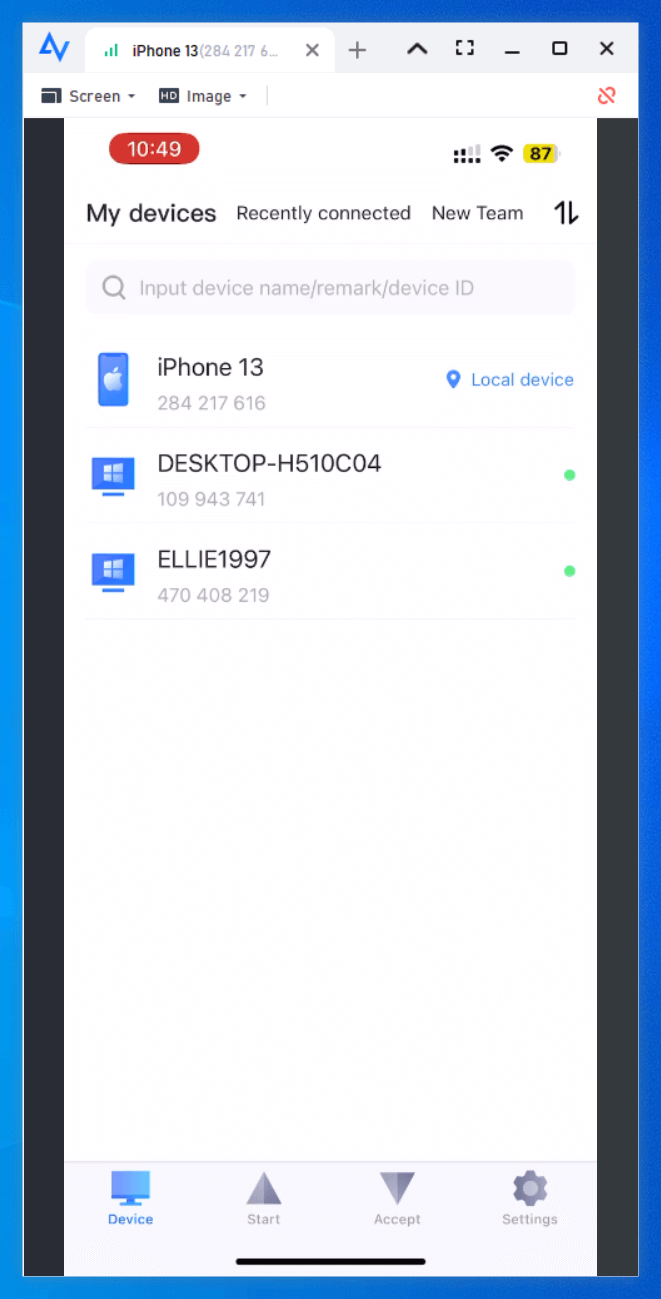 ★Tips:

It is advisable to consider upgrading your account to a Professional or Enterprise plan to gain the capability to log in to more iPhone devices for remote screen viewing.
Part 2. Share iPhone screen with Mac via QuickTime Player
QuickTime Player is a tool that allows you to share iPhone screen with Mac. You need to have a USB cable. Besides, there are requirements for devices; the Mac needs to have macOS X Yosemite or later and the iPhone needs to have iOS 8 or later.
Step 1. Utilize a USB cable to link your iPhone to your Mac.
Step 2. Open the QuickTime Player on your Mac.
Step 3. Click File, and choose New Movie Recording.
Step 4. Choose your connected iPhone from the options pop-up menu after clicking on it.
Step 5. Now the Mac will immediately display the iPhone screen.
Part 3. Share iPhone screen with iPhone via FaceTime
How can I share my iPhone screen with another iPhone? The easiest way is to use FaceTime on your iPhone, which has the screen share feature. Let's see how to perform screen share iPhone on FaceTime.
Step 1. Launch FaceTime on your iPhone or iPad.
Step 2. After selecting the people with whom you wish to share your screen, touch New FaceTime, and then press FaceTime. Choose a recent contact instead to start a video call.
Step 3. Tap the SharePlay button in the new control panel's top-right corner when the call has connected.
Step 4. Select Share My Screen from the dropdown menu. Screen sharing ought should start up after a three-second countdown.
Step 5. You can access any app you choose to show the callers after FaceTime screen sharing has begun. When FaceTime screen sharing is enabled, a sharing icon will continue to appear in the top-left corner of the screen. You can tap this icon to access the FaceTime control panel.
Conclusion
How can I share my iPhone screen? This post primarily provides you with a stepwise tutorial on how to share your iPhone screen with iPhone, Windows, and Mac. Besides, if you want to share your Windows screen with iPhone, you can use AnyViewer.