How do I enable two authentication in AnyDesk?
Security is the main concern of every user of remote desktop software. Two-factor authentication is one of those security features that allows an additional layer of security to be added to unattended access by requesting an additional dynamic key as well as an access password.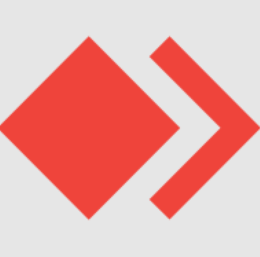 AnyDesk, as a famous remote desktop software, allows users to remotely control unattended computers from almost anywhere, moreover, the security of the software should be improved. AnyDesk also supports two-factor authentication, so how to enable two-factor authentication AnyDesk? If you also want to know the answer to the question please continue reading this article.
How to enable two factor authentication AnyDesk
AnyDesk provides two-factor authentication (2FA) for unattended access connections to specific AnyDesk clients and access to the MyAnyDesk customer portal. Do you want to know how to enable two-factor authentication in AnyDesk to better protect your information security? In this article, you will be provided with step-by-step instructions to guide you through the task of enabling two-factor authentication. Read on to get started successfully.
Step 1. Launch AnyDesk on your device.
Step 2. Click the four horizontal lines icon in the upper right corner and select "Settings" to open it.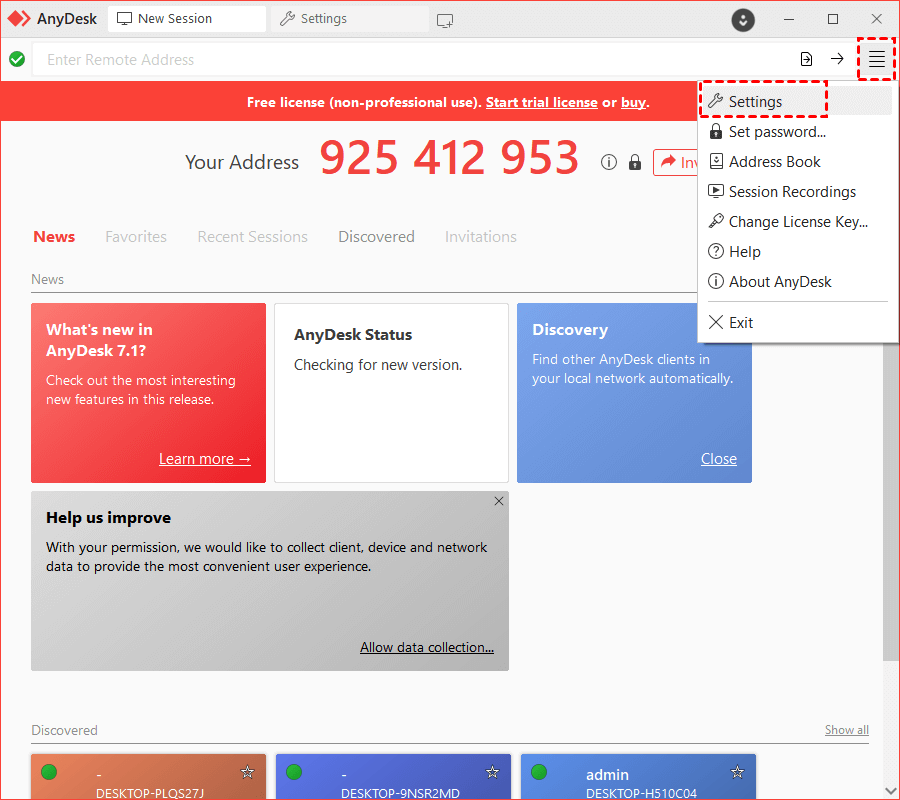 Step 3. Find "Security" and click on it.
Step 4. Next, if you find that all the options are grayed out and you cannot make any modifications. Please click "Unlock Security Settings" above.
Step 5. Then find "Permission" and "Enable Two-Factor Authentication" under it
Step 6. Check "Enable Two-Factor Authentication". After checking, a prompt box will pop up.
Step 7. Now you need to set up your verification code. You can use a smartphone app like FreeOTP or GAuth to scan the QR code on the right to generate a code. and enter your generated code in the box on the left.
Step 8. After entering, click the "Enable authentication" below to finish enabling two-factor authentication.
When connecting to an AnyDesk client with 2FA enabled, the 6-digit authorization key is requested directly from the authenticator after manually or automatically submitting the unattended access password. After you enter the key, click "Connect".

AnyViewer: The best AnyDesk alternative with 2FA
If you're still having trouble enabling Two-Factor Authentication with AnyDesk, or you find the process of enabling Two-Factor Authentication cumbersome, it might be worth exploring AnyDesk's alternatives. AnyViewer will be highly recommended. It is an all-in-one, secure, and free remote control software. Whether for personal or commercial use, you don't need to invest a single penny to use AnyViewer. However, the AnyDesk free plan does not support commercial use.
Not only does AnyViewer support two-factor authentication, it also uses a powerful 256-bit Elliptic Curve Cryptozoology (ECC) algorithm that prioritizes data security with end-to-end encryption and is maintained by a strong team of technicians to protect your computer from malicious attacks.
AnyViewer provides users with a simple way to turn on/off two-factor authentication in just two steps.
Step 1. Log in to your account on the user information page.
Step 2. You can turn on two-factor authentication by simply clicking "Turn on" next to Two-Factor.
In addition to this, AnyViewer also provides users with a series of outstanding features, including unattended remote access, file transfer, remote sound, text chat, multiple sessions, etc. For AnyDesk, multi-session functionality is not supported.
Download AnyViewer for a safer and smoother experience.
Step 1. Install and launch AnyViewer on your devices, navigate to "Log in" and click "Sign up".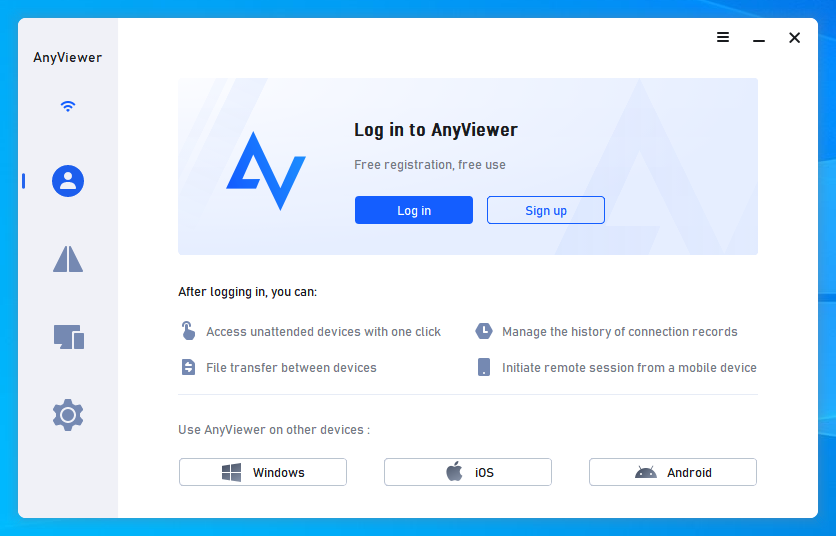 Step 2. Complete the registration form information and log into the same account on both your devices.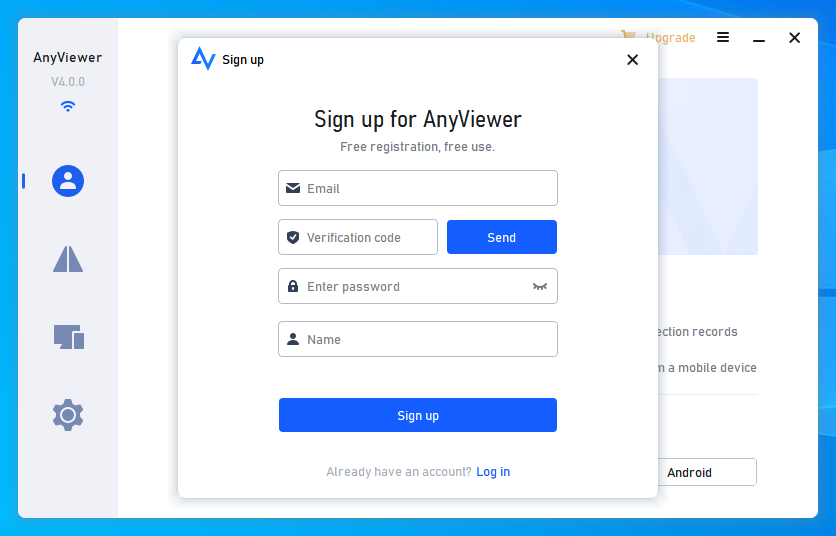 Step 3. After successfully logging in, your device will be automatically assigned to the account you are logged into.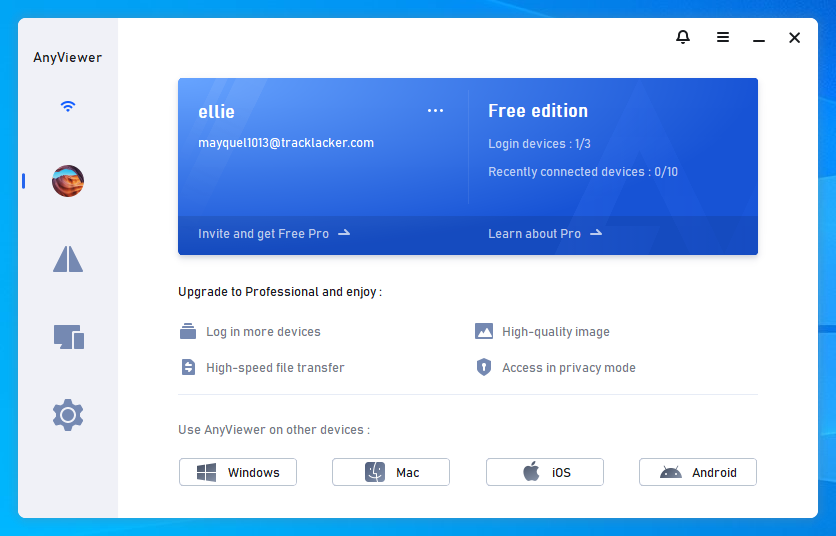 Step 4. Go to "Device" and choose the target device you want to connect to and click "One-click control" to open the connection.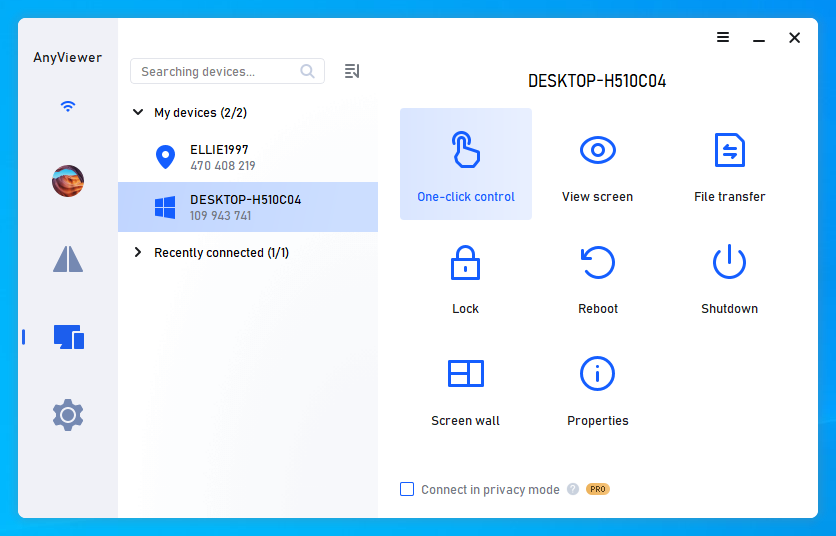 ★Tips: You can upgrade your account to a Professional or Enterprise plan to unlock more benefits:

Control more devices with one-click control.
There is no limit to the number of devices that can be controlled by one computer at the same time.
Enjoy faster file transferspeeds.
Create groups for corporations to more efficiently handle huge numbers of devices.
Enjoy access to another device in Privacy Mode.
...
Conclusion
How to enable two factor authentication AnyDesk? We give you step-by-step instructions in this article. By following the steps, you can easily solve this problem. But you need to know that turning off two-factor authentication may affect the security of your connection and put your device at risk from malicious users and software. But you can put your mind at ease when using AnyViewer. Even without enabling two-factor authentication, AnyViewer can protect your data security very well, allowing you to enjoy a safe, fast, stable, and worry-free remote connection experience.