Audio sound not transmitting to remote desktop
Is there any assistance available for resolving the issue of sound not transmitting from the remote desktop when using AnyDesk?"
- Question from Reddit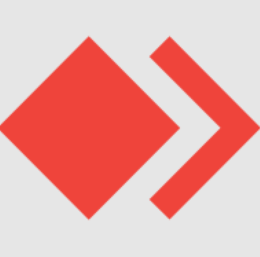 How to fix AnyDesk sound not working
The AnyDesk Audio functionality enables the transmission of sound from the remote device to the local one. Nevertheless, on occasion, users might confront the challenge of the sound functionality not operating correctly in AnyDesk. Here are four potential fixes for this sound problem.
Solution 1. Check the speaker and video editor
Start by examining your speaker and video editor settings. Occasionally, AnyDesk transmit sound not working issues arise when users accidentally lower the volume within the program settings. If the volume is already at its highest level, yet the audio remains inaudible, adjustments within the AnyDesk menu are required. If this doesn't resolve the problem, proceed to the next solution.
Solution 2. Set up Audio Transmission
The "Transmission" feature determines which audio device the client sends when it receives an incoming connection. If you're experiencing difficulty hearing remote sounds, it could be due to incorrect Audio Transmission settings. To enable the transmission of audio output from all devices on your computer, follow these steps:
Step 1. Access your Settings.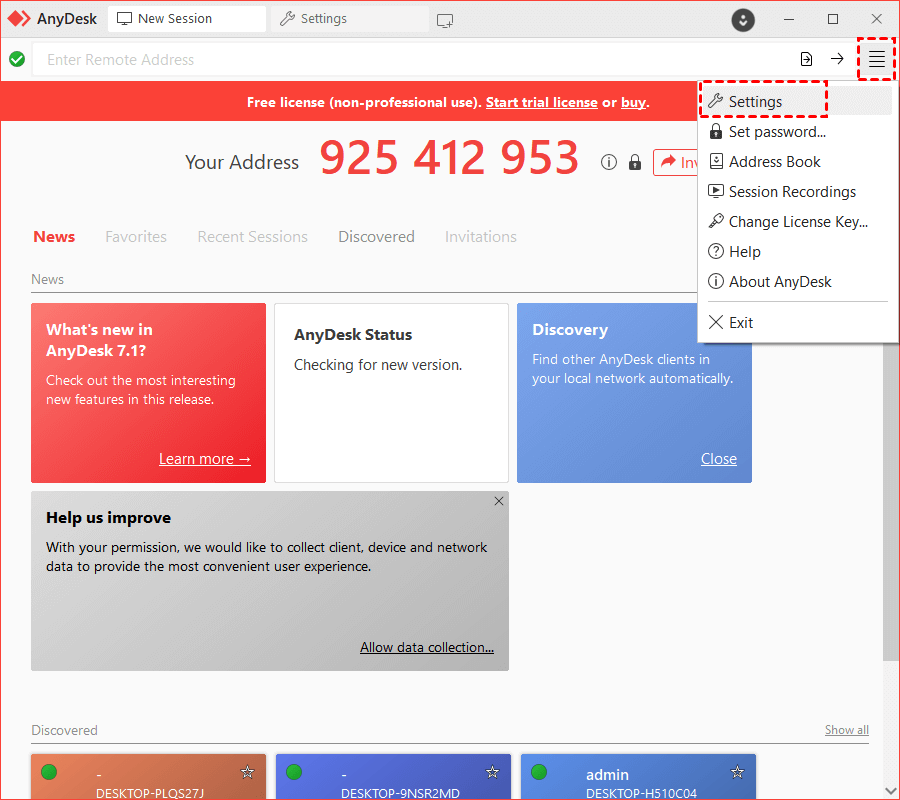 Step 2. Navigate to the Audio section.
Step 3. Under the Transmission category, choose Transmit audio output of this desk.
Solution 3. Set up the Audio Output
The "Output" feature determines the device on which audio is played when the client initiates an outgoing session. To ensure your sound output is correctly configured, follow these steps:
Step 1. Access your Settings.
Step 2. Navigate to the Security section.
Step 3. Within the Permission Profile, confirm that Hear my device's sound output is selected.
Solution 4. Check Windows system settings
When utilizing audio transmission, it's crucial to ensure that your Windows system settings are properly configured. If you encounter issues with transmission, these settings should be your first point of inspection. AnyDesk relies on the correct default audio devices as per its standard configuration. Here's how to check and adjust them:
Step 1. Click on the Start menu, then select Settings.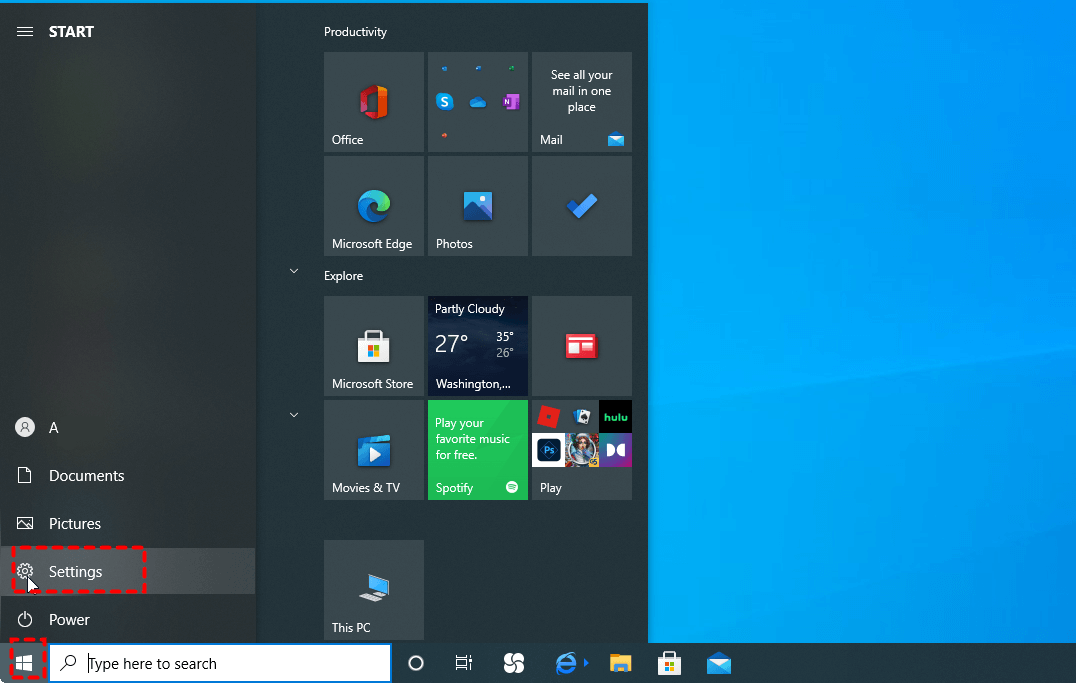 Step 2. Within the Settings menu, click on System.
Step 3. Choose Sounds and then, on the right under Related Settings, select Sound Control Panel.
Step 4. In the Sound Control Panel, under the Playback tab, ensure that the intended audio output device is set as the default by clicking Set Default.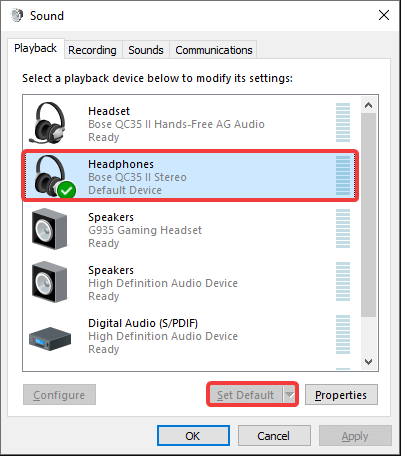 Solution 5. Update AnyDesk
Outdated software can lead to compatibility issues. Visit the official AnyDesk website and download the latest version of the software. Install it and check if the sound problem persists. Software updates often contain bug fixes that can resolve AnyDesk remote audio not working.
Bonus tip: Discover a sound-issue-free AnyDesk alternative
For those seeking an alternative to AnyDesk without sound-related issues, AnyViewer comes highly recommended. This free remote desktop software stands out for its robust features and capabilities. When you need sound from the remote side, AnyViewer is your solution.
Moreover, AnyViewer offers distinct advantages over AnyDesk. While AnyDesk limits its free use to personal purposes, AnyViewer extends its free service to encompass commercial usage as well. This means you can employ AnyViewer for remote control of your work computer from home or provide remote assistance to clients without incurring additional expenses.
Here's a quick guide to get started:
Step 1. Install AnyViewer on your selected devices.
Step 2. Set up your foundational configuration by registering and logging in with the same account on both devices.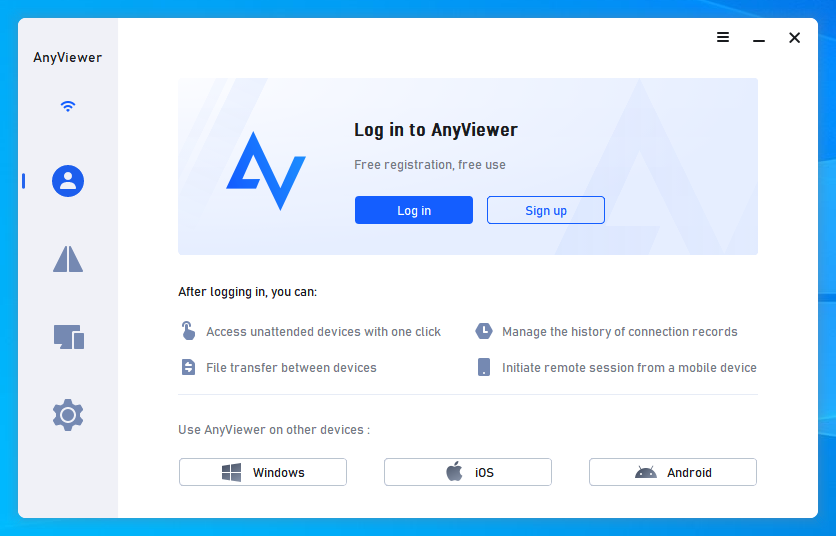 Step 3. On your local device, locate the target remote computer listed under Devices and seamlessly initiate connections using the One-click control feature.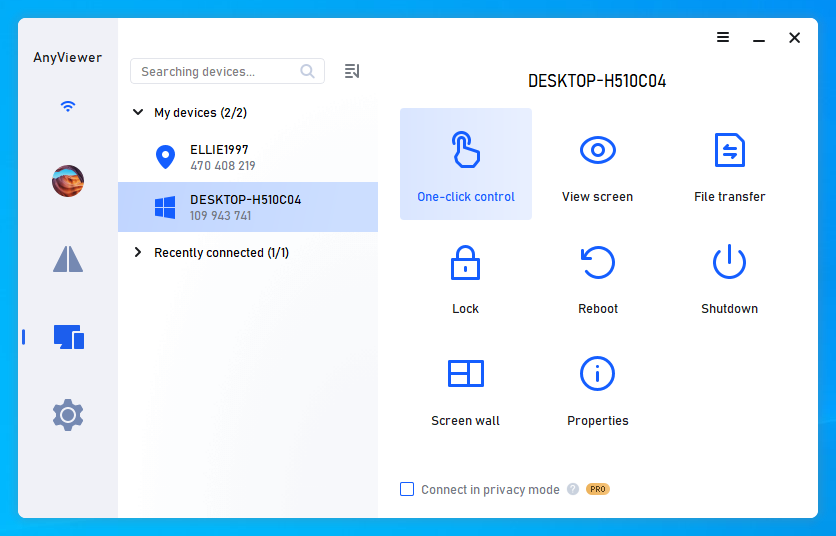 Step 4. To enable remote sound, ensure sound is enabled in the toolbar.

★Tips:

Unlock additional benefits by upgrading to a Professional or Enterprise plan, including:

Allocate more devices for simplified one-click control.
Enjoy accelerated file transfer speeds.
Establish secure connections with privacy mode to another computer.
Experience high-quality image rendering.
Create groups for efficient management of numerous devices in an enterprise setting.
And much more.
The bottom line
In conclusion, this article provided four solutions to resolve AnyDesk sound not working issues, emphasizing settings adjustments and software updates. Besides, AnyViewer is introduced as a sound-issue-free alternative, enhancing remote desktop experiences for both personal and commercial use. These solutions empower users to overcome sound-related hurdles and ensure seamless remote work and support.