Why is AnyDesk not connecting to server?
Facing connectivity issues with AnyDesk while trying to access my office computer from home. Whenever I launch the application, 'Connecting to the AnyDesk network' pops up. What could be causing this problem and how can I resolve it? Any suggestions would be greatly appreciated!"
- Question from a user
AnyDesk represents a remote software solution enabling users to access remote computers from any location. Nevertheless, users might encounter an "AnyDesk is not connected to the server" error, which arises when the application fails to establish a connection with its designated server. Various factors could be responsible for this occurrence, including network problems, firewall restrictions, outdated AnyDesk versions, server-related issues, or even corrupt installation files.
How to fix AnyDesk is not connected to the server [6 solutions]
If you find yourself facing challenges while attempting to establish a connection with the AnyDesk server, and those pesky error messages are starting to get on your nerves, fear not. Within this article, we shall explore the solutions to resolve AnyDesk is not connected to the server Windows 10, 11.
Solution 1. Check your internet connection
Among the primary culprits triggering the "AnyDesk is not connected to server" error is network-related problems. To address this issue, ensure that your internet connection remains stable and sufficiently fast.
Step 1. Access the Windows Settings app and navigate to "Network & Internet."
Step 2. Within the "Status" tab on the left side of the screen, you can check your current connection status.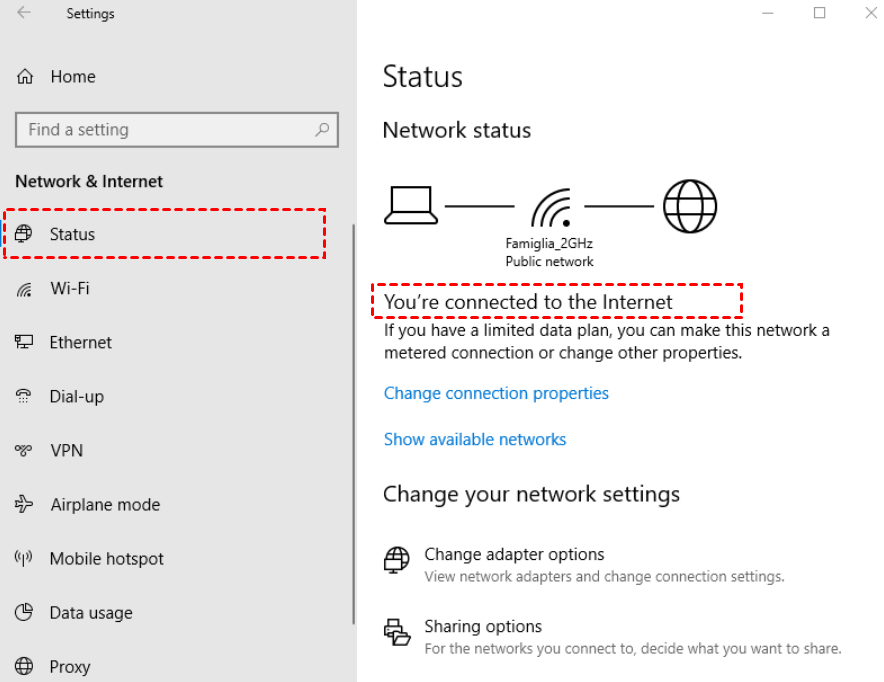 Step 3. Should you encounter any network-related obstacles, scroll down the "Status" interface until you find the "Network troubleshooter" option. Opt for this selection, and Windows will activate its diagnostic capabilities to identify and resolve any issues affecting your network connection.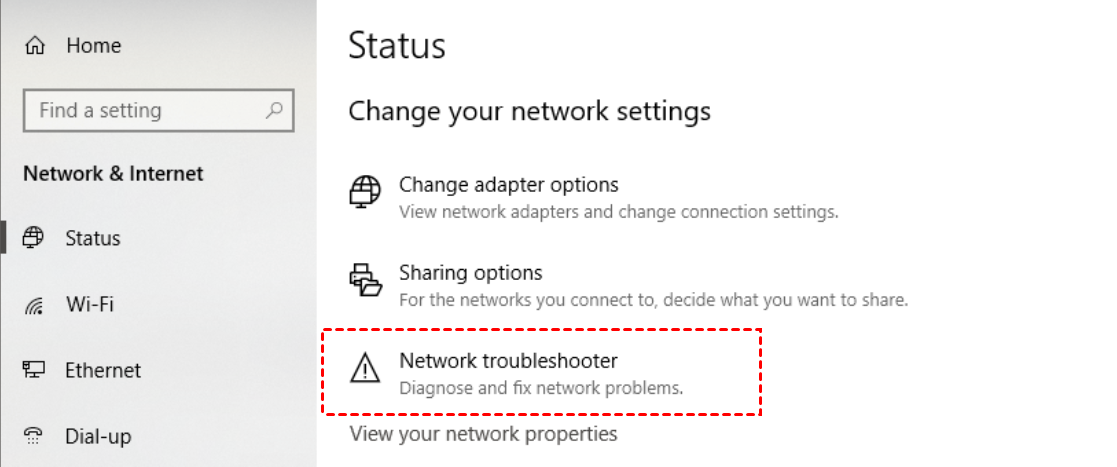 Solution 2. Update AnyDesk to the latest version
Using an outdated version of AnyDesk may result in connectivity issues with the servers. To address this concern, ensure that you are utilizing the most recent version of AnyDesk.
Step 1. Launch the AnyDesk application and access the settings. In the left pane, click on "About AnyDesk" to check whether you have the latest version installed.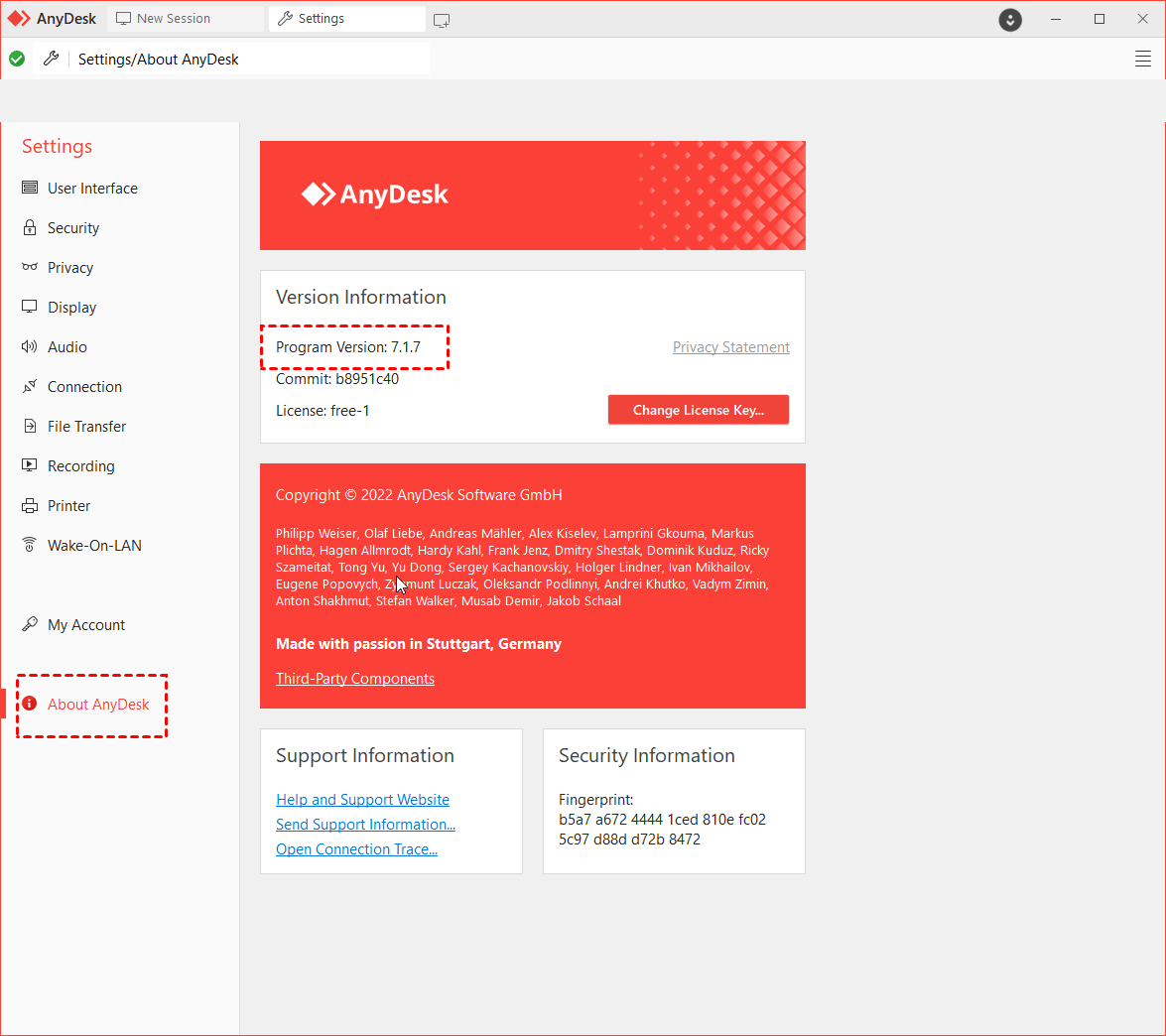 Step 2. Alternatively, for convenient and automatic updates, you can enable the auto-update feature. To do so, navigate to the "Settings" menu and find the "Security" section. Locate the "Update" option and tick the box next to "Enable Auto-Update - Main Channel" to activate the auto-update functionality.
Solution 3. Disable firewall settings
The occurrence of this error might be due to your computer's firewall obstructing the connection to the AnyDesk server. To resolve this issue, you'll need to temporarily disable your firewall settings.
Step 1. Begin by launching the Control Panel. From there, navigate to "System and Security" and choose "Windows Defender Firewall." In the left pane, click on "Allow an app or feature through Windows Defender Firewall."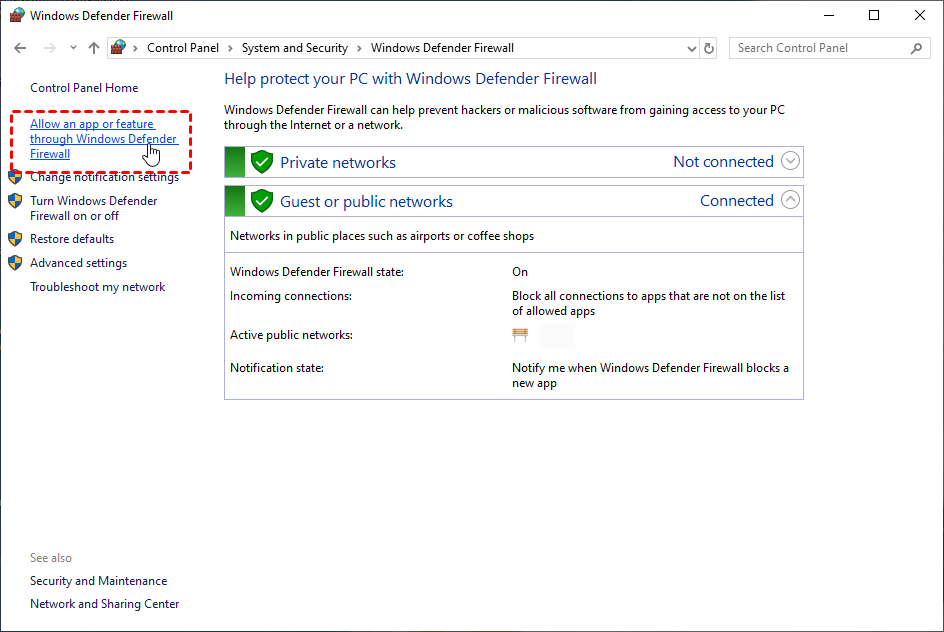 Step 2. Next, click on "Change settings" and locate "AnyDesk" in the list. Check the box next to it, then click "OK" to save the changes.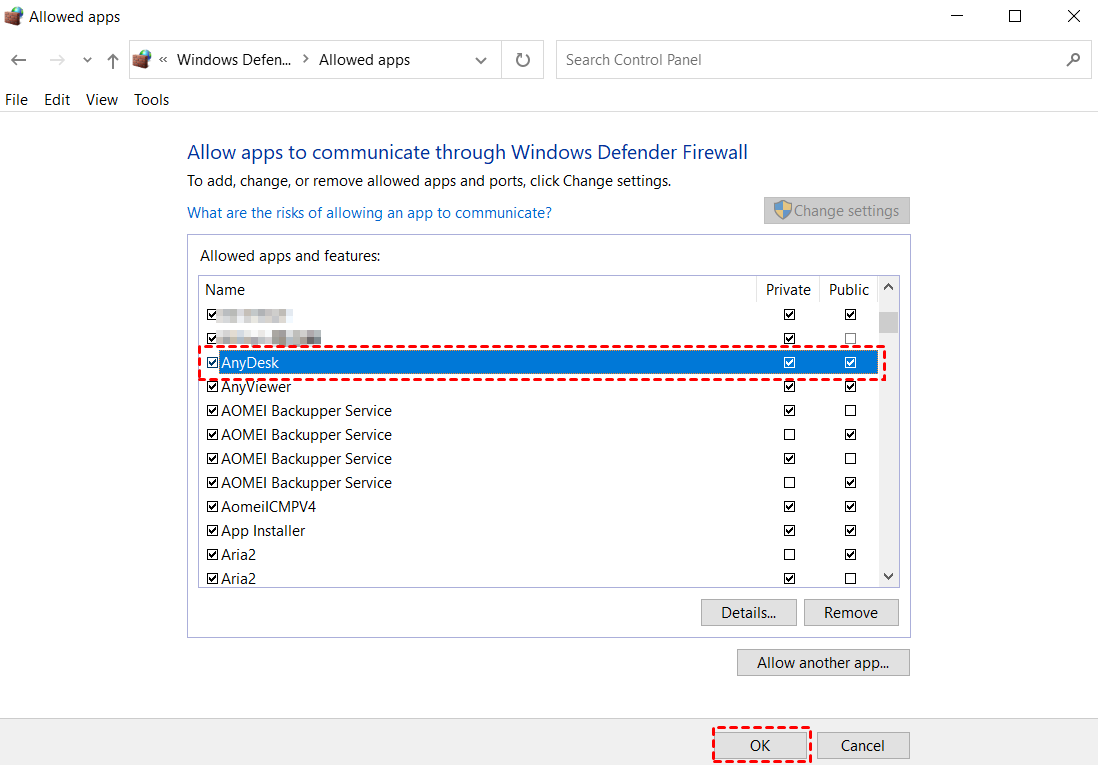 Solution 4. Check AnyDesk server status
In case the previously mentioned solutions fail to resolve the "AnyDesk is not connected to the server" issue, the next step involves checking the status of the AnyDesk server.
Launch AnyDesk on your computer. Navigate to the "News" section within the application. In the "News" section, you will find the option to check the "AnyDesk Status," which will provide you with the necessary information about the server's current status.
Solution 5. Check your file permissions
To ensure a successful connection, it is essential to verify that the user account you are using has the required permissions to access the remote computer. If the problem persists, consider creating a new user account and attempt to connect using that account.
If the issue is indeed caused by incorrect permissions, you may need to modify the permissions for the user account you are utilizing. Here's how you can proceed:
Step 1. Open the user account Settings and navigate to the Security section. Adjust the permissions to allow access to the remote computer, making certain they are configured accurately.
Step 2. Try connecting to the remote computer again after setting the appropriate permissions, and check if the issue has been resolved.
Solution 6. Use a reliable AnyDesk alternative
To tackle AnyDeskerrors effectively, consider opting for an AnyDesk alternative, which will mitigate the occurrence of these issues. Numerous remote access tools are available on the market, but our top recommendation is the robust and secure software known as AnyViewer.
As the ultimate remote access software, AnyViewer offers unparalleled stability with seamless connections, ensuring a smooth experience free from interruptions and errors. Moreover, it presents an all-in-one package, encompassing a wide array of features, all available for free use. These features include unattended access, remote desktop file transfer, support for multiple sessions, seamless navigation across multiple monitors, and the ability to perform remote reboots.
AnyViewer is very easy to use. Download it on your computer, and let's get started.
Step 1. Launch AnyViewer on the remote computer. Create a fresh account, and once registered, log in using your newly credentials.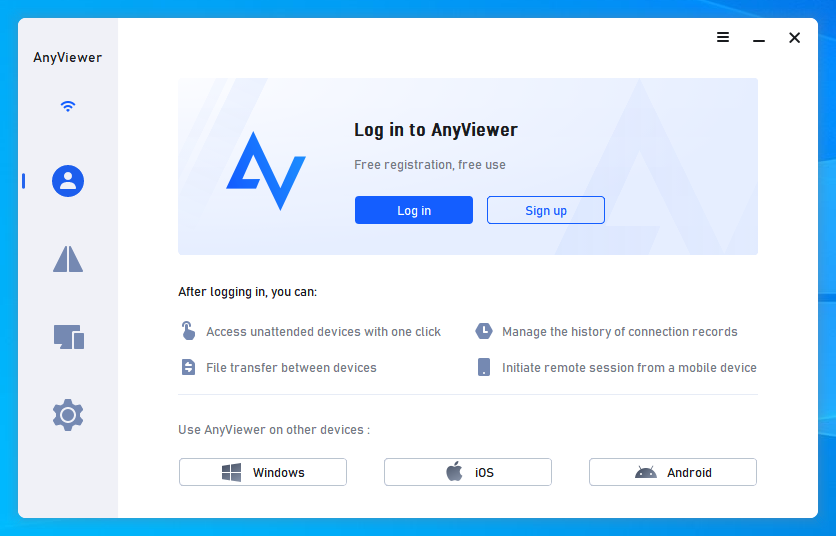 Step 2. On your local device, launch AnyViewer and sign in using the account you just created. This action automatically assigns the remote computer to your account.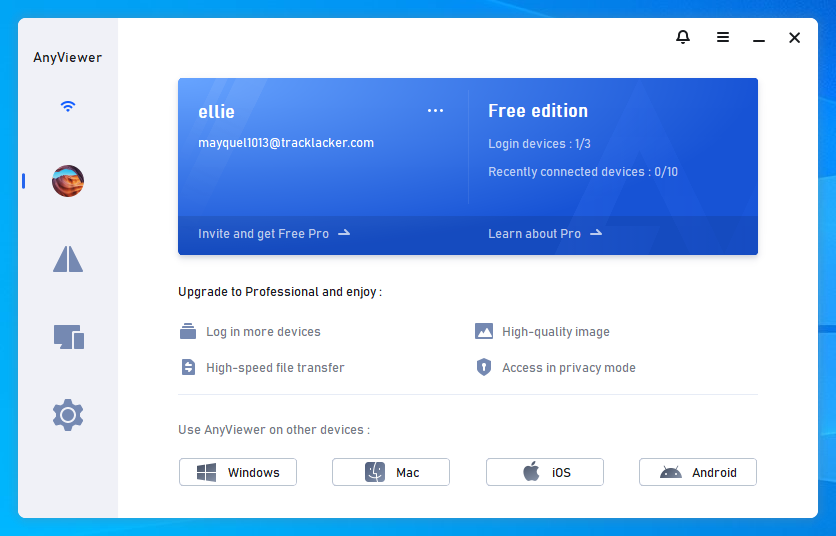 Step 3. Head to the "Device" section, where you can handpick the specific computer you desire to connect with. For an effortlessly smooth connection, click "One-click control".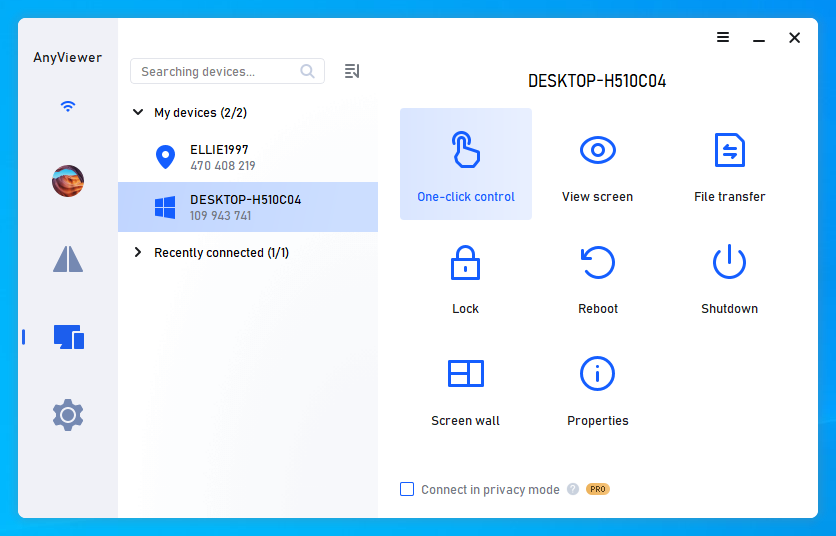 Useful tip:
If you have more than two remote PCs to manage, consider upgrading your account for enhanced capabilities:
➤Assign more devices. A free account has 3 assigned devices, while Pro/Enterprise supports 10/100 assigned devices.
➤More connection channels. The Enterprise version allows 10 channels.
➤More simultaneous sessions. A professional or Enterprise plan can enjoy 5/10 simultaneous sessions.
➤Connect in privacy mode. It will better protect your privacy by blacking the remote PC and disabling the remote keyboard & mouse.
➤High-speed file transfer. Transfer unlimited files at once at a higher speed of up to 10 MB/s.
Conclusion
That's all for how to fix "AnyDesk is not connected to the server."We recommend experiencing no connection issues with AnyViewer, the ultimate AnyDesk alternative. Say goodbye to errors and hello to seamless remote access. Try AnyViewer today!