How can I access my home hard drive remotely?
I want to be able to remotely access an external hard drive that I have. How can I access external hard drive remotely? Thanks everyone for your will to help."
- Question from a user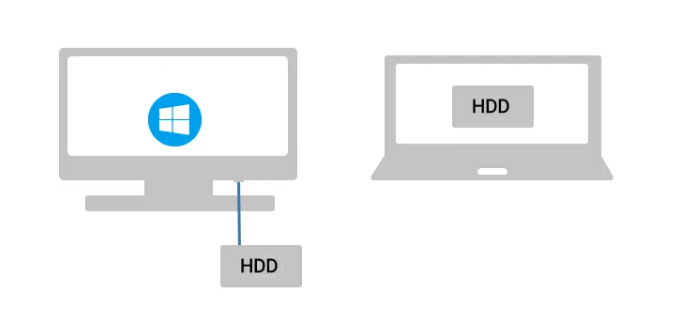 How to access external hard drive remotely [4 options]
Accessing files remotely from anywhere means you never have to stress about forgetting something important. However, it could be challenging to access files stored on a connected external hard drive remotely. This article will show you how to access external hard drive remotely.
Option 1. Use the professional remote access tool AnyViewer [easy setup]
AnyViewer is easy, secure, and free remote access software for Windows, iOS, and Android devices. It supports unattended remote access, which means you can remotely access and manage your hard drive without needing others to grant permission. If you only want to access the files, AnyViewer has an independent file transfer option to transfer files between devices without taking the remote control.
You can download and install AnyViewer for free and follow the next simple steps to start a session.
Here is how to remotely access the drive via unattended remote access:
Step 1. Start AnyViewer on the host computer, and click Sign up to register a personal account.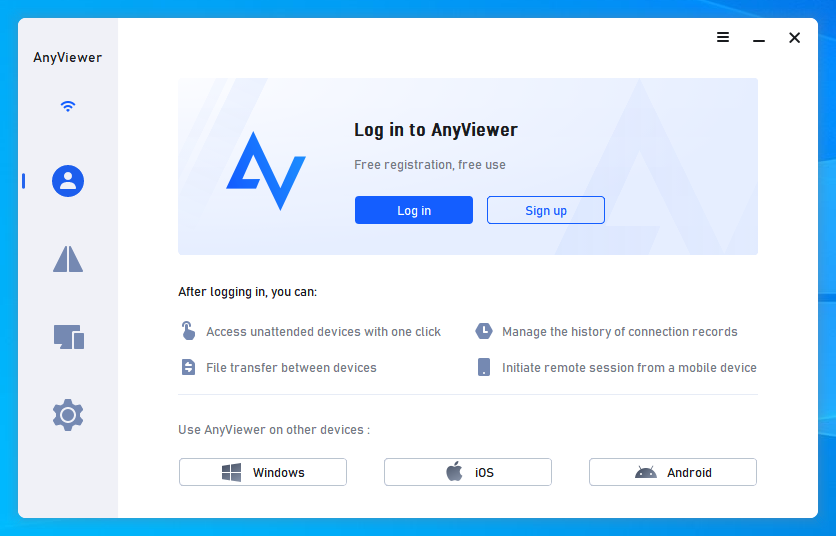 Step 2. Start AnyViewer on the client computer, and log in to the same account you just registered.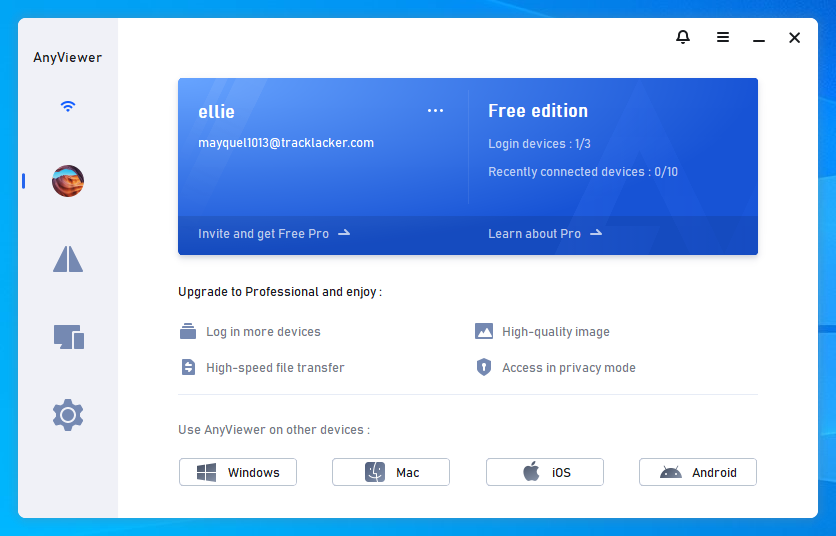 Step 3. Go to the Device interface, select the remote device you want to connect, and click One-click control.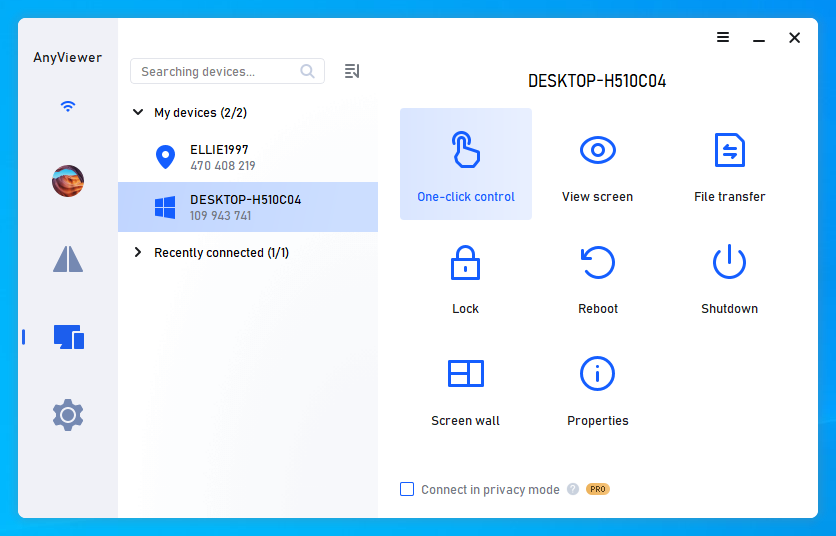 Now you can access your external hard drive remotely. You can also transfer files by using the "Files"option from the toolbar or dragging and dropping the file.
If you only want to access PC files remotely, click File transfer.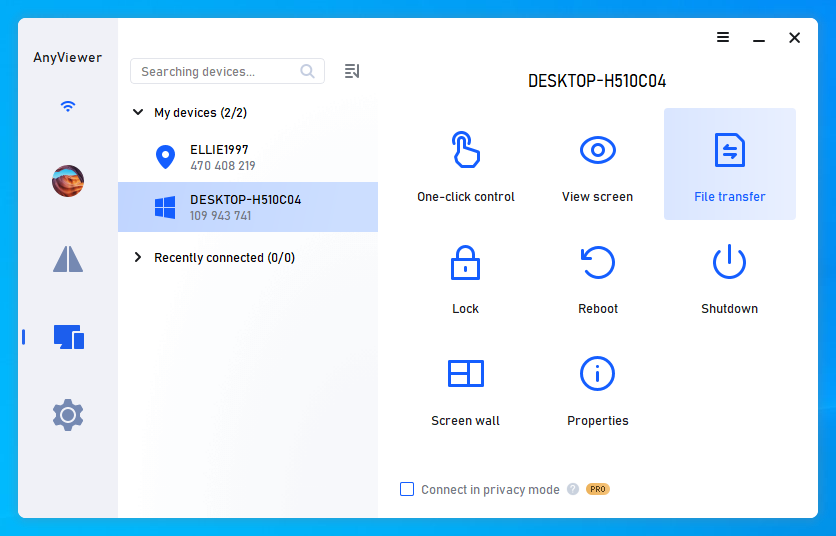 A File Transfer window will appear then. The left is the client device, while the right is the host device. Select the files, and click the arrow to perform the file transfer. For example, if you want to access files from remote hard drive to the local computer, locate your hard drive on the right panel, select the files, and click the left arrow.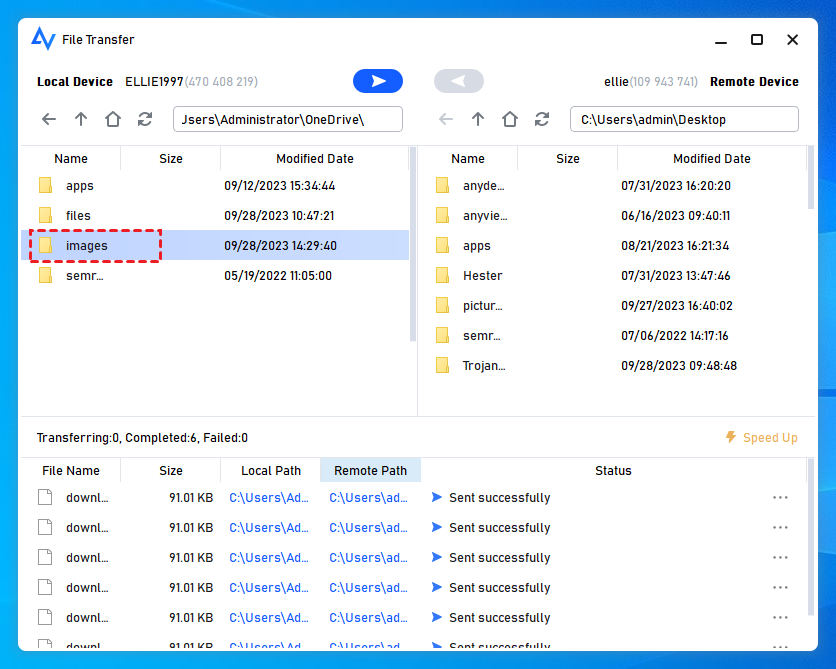 Tips:
A free account enables transferring 100 files at once. We recommend you use the cost-effective
Professional or Enterprise account
to transfer unlimited large files with higher speed.
Option 2. Use a remote access hard drive
An external hard drive is great for backing up your computer or saving files from one device to another. But if you have more than one computer or do not carry the external hard drive, it can be difficult to access files from anywhere. In this case, a remote access external hard drive is an excellent approach to overcome this problem. It enables access and transfer files from any Internet-connected computer.
There are many available remote access hard drive on the market, and you can select one according to your demand for brand, security, ease of use, file storage, etc.
Option 3. Use the external hard drive shared software FlexiHub
FlexiHub allows you to remote access your USB devices over a network. However, it only offers a demo version for free, and you need to pay for a subscription plan.
Step 1. Download and install FlexiHub from its official website on both computers.
Step 2. Start FlexiHub on your client computer and click Sign Up.
Step 3. Sign up on the website, activate your email account, then log in.
Step 4. When you log in, find your external hard drive in the list and press Connect.
Once the connection is established, the drive will appear in your remote system as if attached to it physically.
Option 4. Map your drive over a network
Nowadays, a number of routers come equipped with USB ports that can be used to share external hard drives with other computers on your network. Attach your USB external hard drive to the router's USB port, then you can map and share it as a network drive via the same network.
Step 1. Plug your external hard drive into your router's USB port.
Step 2. Open your web browser, type in your router address, and press Enter.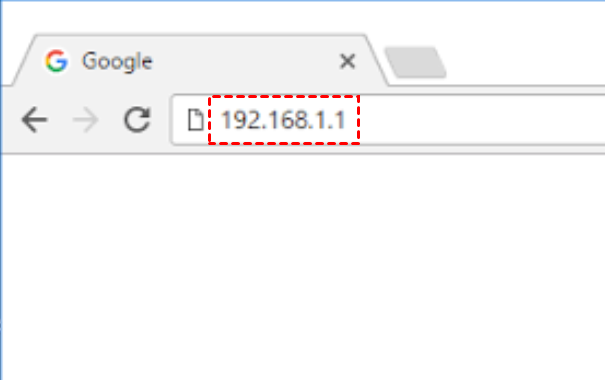 Step 3. Log in to your router, and you can check your router's user manual to get the login details.
Step 3. Locate to your external drive, and you can change its drive letter and name and set up a password for accessing it.
Step 4. Open This PC on your computer, and click Map network drive.
Step 5. Choose the drive letter you want to use. Then click Browse and locate the drive you want to map.
Note: Check Reconnect at sign-in if you want to map the drive every time you log into Windows. Check Connect using different credentials if you put up a different username and password for the drive than you do for your Windows account.
Step 6. Click the new drive in File Explorer to access the network folder.
The bottom line
That's all for how to access external hard drive remotely. Among the above options, AnyViewer is the best due to its multiple features that can fit your flexible demands.