What is MSInfo32 used for?
Msinfo32.exe, also called Microsoft System Information, is a handy tool included with Windows. This tool collects information about your computer and shows a detailed view of your hardware, system components, and software environment, allowing you to diagnose computer problems. Generally, MSInfo is located under \Windows\System 32.
With this tool, you can examine information like the OS version, BIOS version, Processor, RAM, and even what driver the GPU is using. If you delve down on the possibilities, you'll find a wealth of information.
Of course, apart from viewing your own PC information in Msinfo 32, sometimes we may need to view and check the information of our friends or family member's PC. That means we may need to check MSInfo 32 on the remote computer.
How to check MSInfo32 on remote computer
Here in this part, I'll talk more about how to run MSInfo 32 on a remote computer by using 2 different ways. Keep reading to know more about it.
Check MSInfo 32 by connecting to the remote PC
To check MSInfo 32 remotely without time and location limitations, we recommend using a remote access software-- AnyViewer, which can satisfy all your needs in remote access.
The operation and the setup of AnyViewer are fairly simple. You even can realize remote control or support with one click if you log the same AnyViewer account on 2 devices. You can enjoy the fast connection speed, high responsiveness and stable connection with AnyViewer. Now click on the blue button to get AnyViewer!
Step 1. Download, install and launch AnyViewer on both computers. Go to Log in, and then click Sign up. (If you already have signed up on its official website, you can log in directly.)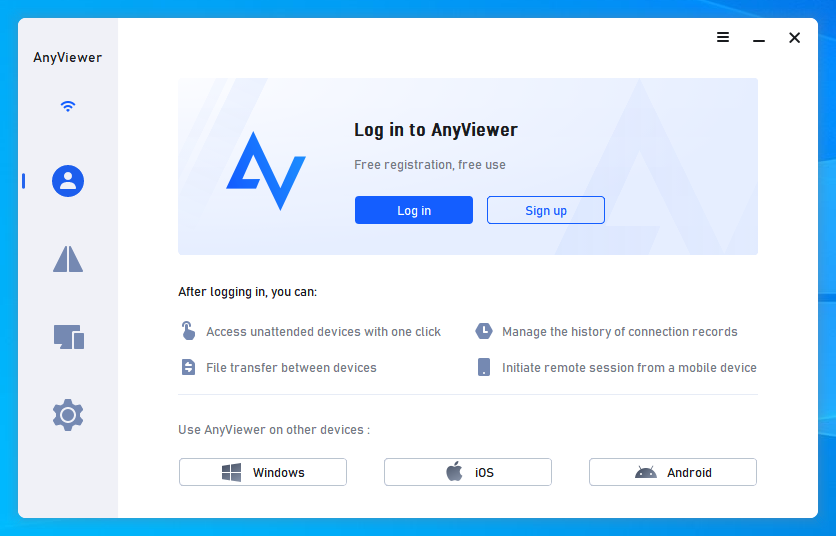 Step 2. Fill in the signup information.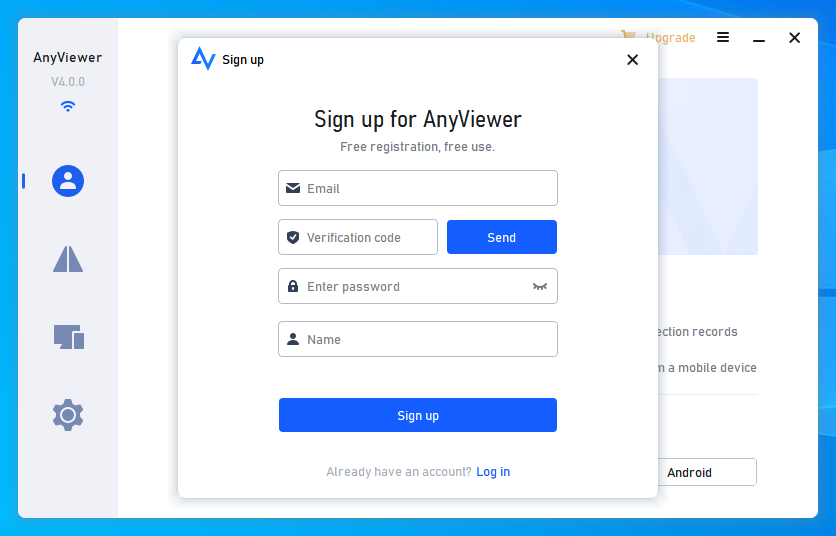 Step 3. Then you can see you successfully logged in to AnyViewer. Your device will automatically be assigned to the account you've logged in to.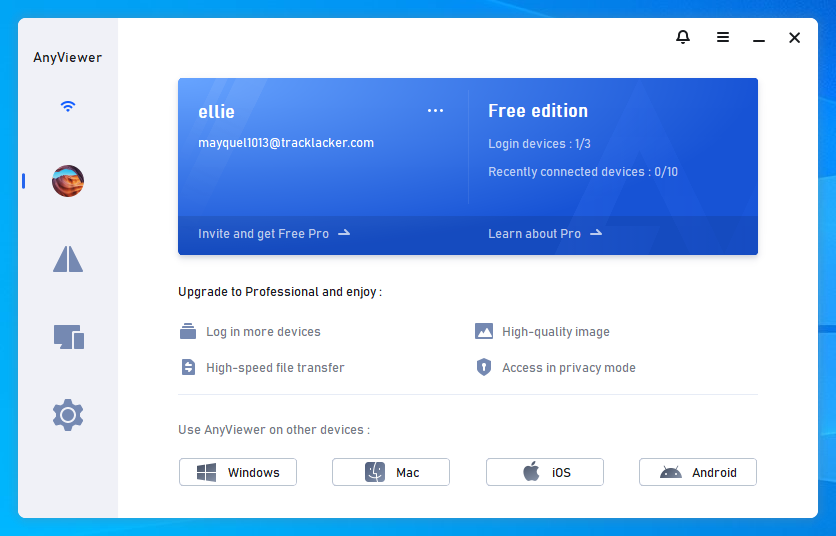 Step 4. Log in to the same AnyViewer account on the two devices, then you can achieve a direct connection by clicking One-click control.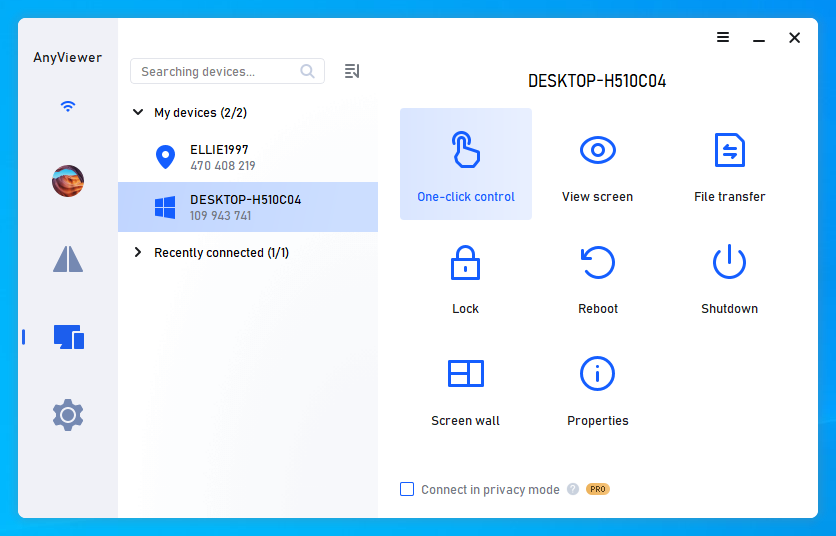 ☞ Note:
You can also
upgrade
your account to Professional or Enterprise edition to assign more devices and to connect to another computer in privacy mode.
Step 5. Now the connection is established successfully. You can press Win + R simultaneously and then enter "msinfo 32" and then hit OK. After that, you can check Microsoft System Information.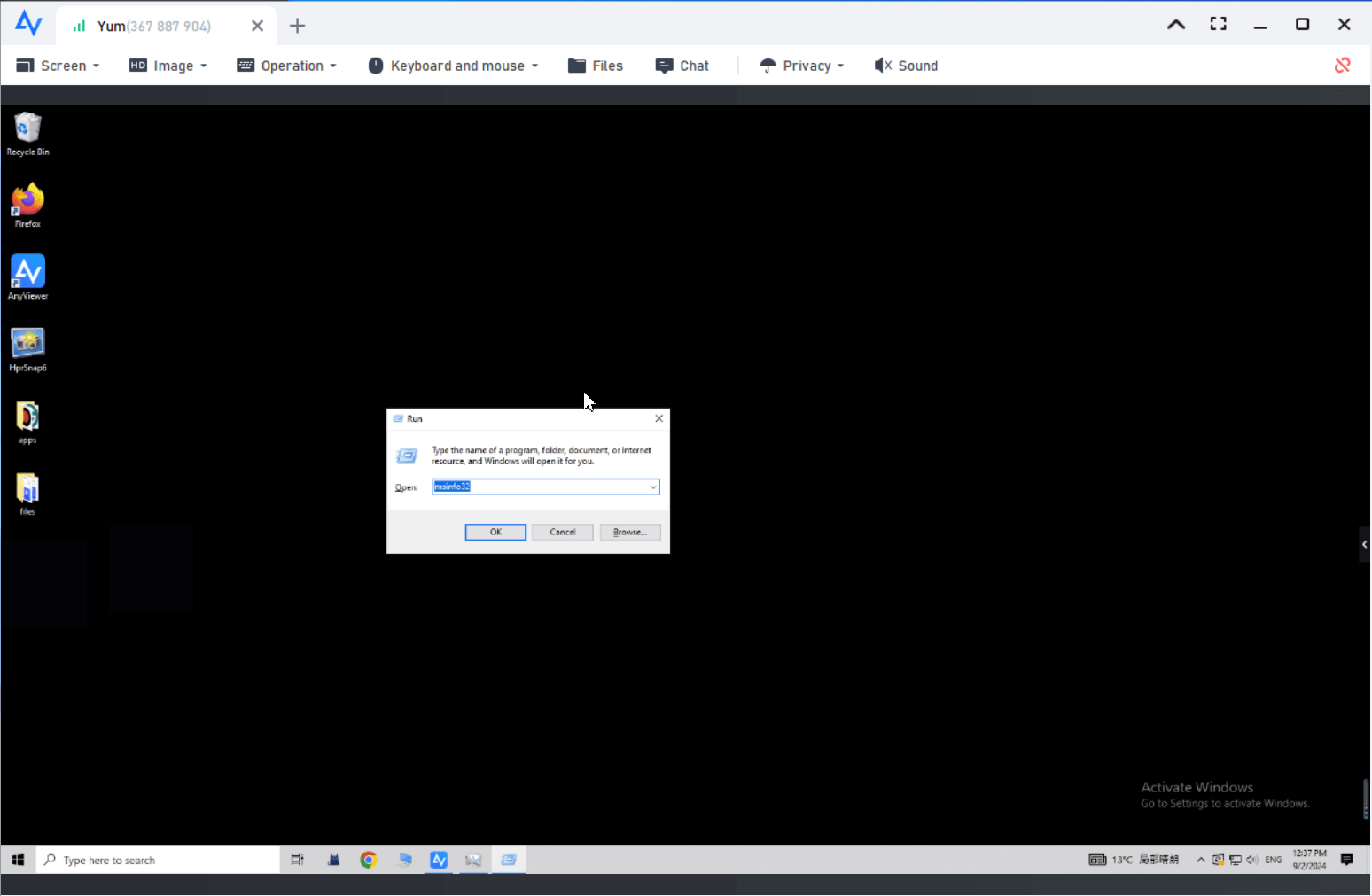 In addition, there are many shortcuts in AnyViewer, such as "This PC", "Task Manager" "CMD" and so on, which may provide super convenience for you.

How do I run MSInfo 32 on a remote computer? [on the same network]
Some people may ask that is there any way I can check MSInfo 32 without having to control another computer? In fact, there is. You can also try to run MSInfo 32 in the program without remoting into another PC if two PCs are on the same network. Let us now figure out how to operate.
Step 1. Press "Win + R" and then type in msinfo32, and press the "Enter" key to bring up the program.
Step 2. Now you can see the interface as the picture.
Step 3. Locate at the "View" tab, and then click on "Remote Computer..."
Step 4. Choose "Remote Computer on the Network" and then enter the network Machine Name. Finally, click on "OK".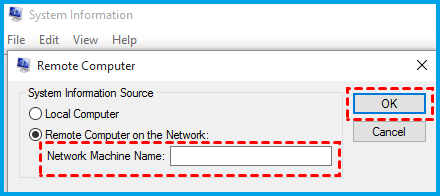 Step 5. Now you can run MSInfo 32 on the remote PC.
Conclusion
From the analysis above, you must know how to check MSInfo 32 on a remote computer, such as using remote access software AnyViewer. If you are looking for a way to check MSInfo 32 without remoting into a PC, you can also use the program's built-in feature to achieve the goal if 2 PCs are on the same network.