What is PuTTY?
Putty is a free terminal emulator and network file transfer tool. It's widely used on Windows, macOS, and Linux to connect remotely to servers and devices using SSH, Telnet, and other protocols. Putty supports various authentication methods, making it valuable for system administrators and network engineers. It remains popular on Windows and is used in multi-platform environments for remote access and management.
Despite its reputation for reliability, PuTTY does come with certain limitations. Thankfully, a multitude of free alternatives have emerged, presenting users with more streamlined interfaces and a broader spectrum of features.
What are the free PuTTY alternatives for Windows? [10 options]
Within this tutorial, we aim to present an insightful glimpse into the top ten PuTTY alternatives for Windows, furnishing comprehensive information about their essential attributes, as well as an exploration of the advantages and drawbacks associated with each option.
Option 1. Solar-PuTTY by SolarWinds
Solar-PuTTY, a free software solution tailored for Windows systems, sets itself apart by dispensing with the need for installation, allowing users to download and launch the application effortlessly.
Notably versatile, Solar-PuTTY extends support to SSH, Telnet, SCP, and SFTP, and its intuitive tabbed interface empowers users to deftly manage multiple connections. Additionally, its seamless integration with Windows search facilitates rapid retrieval of saved sessions.
Key features:
Automatic login and reconnect functionality streamlining the connection process.
Support for post-connection scripts, enabling enhanced automation.
Capability to back up and migrate saved sessions to new systems, ensuring smooth transitions.
Customizable appearance with options to modify fonts and session colors to suit individual preferences.
Secure storage of credentials, which can be assigned to multiple servers for convenient access.
Pros:
Complete freeware, offering cost-effective accessibility.
Robust integration with SCP and SFTP enhances functionality, surpassing that of PuTTY.
Efficiently stores credentials, ensuring swift and secure repeat access.
The ability to color-code multiple sessions facilitates organized management of simultaneous connections.
The automatic reconnection feature helps maintain seamless connections in case of interruptions.
Cons:
Limited compatibility, confined to Windows systems.
Like PuTTY, Solar-PuTTY targets technical professionals and mandates basic networking knowledge prior to usage.
Option 2. KiTTY
KiTTY is a fork of the popular terminal emulator Putty. It is a free and open-source application that offers additional features and improvements over Putty. KiTTY is primarily designed for Windows operating systems and provides an enhanced user experience for remote terminal access and SSH connections.
Key features:
Boasts a built-in chat system and text editor, fostering collaborative interactions.
Facilitates login scripts with partial support for after-login automation, streamlining the login process.
Empowers users to automate commands and assign shortcuts, expediting repetitive tasks.
Auto-saves sessions and incorporates session filtering for enhanced organization and efficiency.
ZModem integration for seamless file transfer capabilities.
Pros:
Completelу free, ensuring cost-effective accessibility.
Represents an upgraded version of PuTTY, retaining the familiar GUI for effortless navigation.
Accommodates scripting and command automation, heightening overall efficiency.
Built-in chat and text editing features extend functionality, offering added convenience.
Cons:
Exclusive to Windows systems, limiting compatibility.
The interface retains a primitive aspect akin to that of PuTTY.
Option 3. MobaXterm
MobaXterm is a comprehensive and enhanced terminal emulator and Unix/Linux remote desktop client for Windows operating systems. It provides a suite of powerful networking tools, remote computing features, and X11 server capabilities, making it a popular choice for system administrators, developers, and IT professionals. MobaXterm offers users the flexibility to choose between a free or paid version.
Key features (Free version):
Remote desktop and terminal functionality with X11 forwarding, facilitating seamless connections.
Support for plugins, enhancing extensibility.
A limited number of sessions, SSH tunnels, and macros are available within the free version.
Pros:
Boasts a simple and user-friendly interface, promoting ease of use.
Supports multiple network and file transfer protocols, inclusive of X11 forwarding, enhancing versatility.
Cons:
Access to advanced features necessitates upgrading to the paid version.
Option 4. mRemoteNG
mRemoteNG is a free, open-source, and feature-rich remote connections manager for Windows. It allows users to centralize and manage various remote connections, including remote desktops, SSH, Telnet, VNC, and other protocols, all within a single interface. This makes it a convenient tool for system administrators, IT professionals, and anyone who needs to handle multiple remote connections regularly.
Key features:
Extensive support for RDP (Terminal Servers & Remote Desktop) and VNC, catering to diverse remote desktop needs.
Inclusive of ICA Support (Citrix Independent Computer Architecture), adding to its versatility.
Facilitates SSH, HTTP/HTTPS, Telnet, and Raw Socket Connections, expanding its reach across various protocols.
rLogin support enhances its connectivity options.
Pros:
Boasts an open-source nature, with an active community and regular updates ensuring ongoing improvement.
Secure credential storage bolsters data protection and privacy.
A lightweight GUI option makes managing remote connections a breeze.
Encompasses support for a wide array of protocols, encompassing RDP, VNC, and Telnet.
Cons:
The interface may feel crowded when numerous connection destinations are added, possibly impacting user experience.
Option 5. Xshell
Xshell presents a dual offering, with a free version catering to home and school usage, and a paid version targeting businesses, priced at $99, exclusively for Windows systems. Boasting a tabbed interface, Xshell effortlessly handles multiple connections, offering the added advantage of choosing between SSH versions 1 and 2, while safeguarding credentials with encryption.
Key features:
Dynamic port forwarding enriches connectivity options.
Enabling users to map keys and assign shortcuts for streamlined navigation.
Interface highlights critical text snippets, promoting efficient comprehension.
Support for scripting using VB, JavaScript, and Python enables automation.
Pros:
Highly detailed interface, optionally incorporating audio alerts for comprehensive management.
Excellent support for multiple sessions facilitated through distinct tabs, enhancing productivity.
Compatibility with SSH1, SSH2, SFTP, Telnet, and rLogin widens its scope of usage.
Highly customizable, allowing the creation of macros and customization of key binds to suit individual preferences.
Features built-in alarms for efficient monitoring.
Cons:
Interface complexity may prove challenging for novice users.
Exclusive to Windows systems, limiting cross-platform accessibility.
Compared to PuTTY, Xshell may exhibit a slightly heavier resource footprint.
Option 6. Bitvise SSH Client
Bitvise SSH Client stands as another noteworthy free Windows application, available in both installable and portable versions. This alternative for PuTTY in Windows caters to all Windows desktop and server versions, providing users with a versatile mix of GUI and command-line functionality.
Key features:
Single-click remote desktop forwarding simplifies remote access.
Comprehensive support for SSH and SFTP, complemented by FTP to SFTP bridging.
Accommodates SSH obfuscation, enhancing security.
Capable of supporting scripting through sexec, stermc, and stnlc.
Pros:
Offers a wide array of public key authentication types, enhancing access control.
Customizable SSH obfuscation feature bolsters privacy and protection.
Employs powerful scripting options via sexec and stermc, enabling advanced automation.
Cons:
The tabbed interface may introduce additional steps during usage, possibly affecting user experience.
The help section might be less extensive compared to certain other alternatives to PuTTY for Windows.
Option 7. PuttyTray
PuTTYTray emerges as another commendable fork of PuTTY, introducing the convenient capability of minimizing PuTTY to the system tray. This alternative incorporates several quality-of-life enhancements over PuTTY, including hyperlink integration and improved font rendering.
Although this project has been on hold since 2016, it remains a reliable substitute for PuTTY, boasting modest yet valuable improvements even in its current state.
Key features:
Offers a customizable tray icon with alert features, ensuring prompt notifications.
Embraces URL hyperlinking and Android ADB support, enriching connectivity.
Serves as a portable application file for enhanced convenience.
Pros:
Completelу free, ensuring cost-effective accessibility.
Ideal for PuTTY users seeking a closely analogous alternative with added benefits.
On-screen notifications foster user awareness and engagement.
Users can personalize the icons to suit individual preferences.
Cons:
Infrequent updates may result in unaddressed bugs lingering for extended periods.
It falls short of incorporating the full spectrum of additional features found in tools such as SolarWinds Solar PuTTY.
Option 8. ExtraPutty
ExtraPuTTY is a fork of the popular terminal emulator PuTTY. It is an open-source application that builds upon the functionalities of PuTTY and extends them with additional features. Like PuTTY, ExtraPuTTY is primarily designed for Windows and provides an enhanced terminal emulation and SSH client for remote access to Unix/Linux servers and network devices.
Key features:
StatusBar, Timestamps, and DLL Frontend contribute to enhanced functionality.
Session scripting, powered by Lua 5.3, empowers users to automate tasks efficiently.
Sequence commands can be executed automatically, streamlining operations.
Keyboard shortcuts facilitate the quick execution of pre-defined commands.
Protocol support extends to FTP, SFTP, SCP, SSH, yModem, and XModem.
Pros:
Extensive protocol support broadens its applicability for diverse connections.
The capability to send commands to multiple PuTTY sessions concurrently enhances efficiency.
Lua scripting brings advanced customization and automation options.
Cons:
The nested menus might benefit from a redesign, as the interface can feel crowded when managing numerous connections.
Lacks file transfer capabilities, potentially necessitating the use of additional tools for such tasks.
Option 9. SuperPuTTY
SuperPuTTY stands as a valuable PuTTY extension, introducing an alternative user interface accompanied by a range of new features. Available on GitHub, it requires a pre-installed copy of PuTTY for seamless functionality.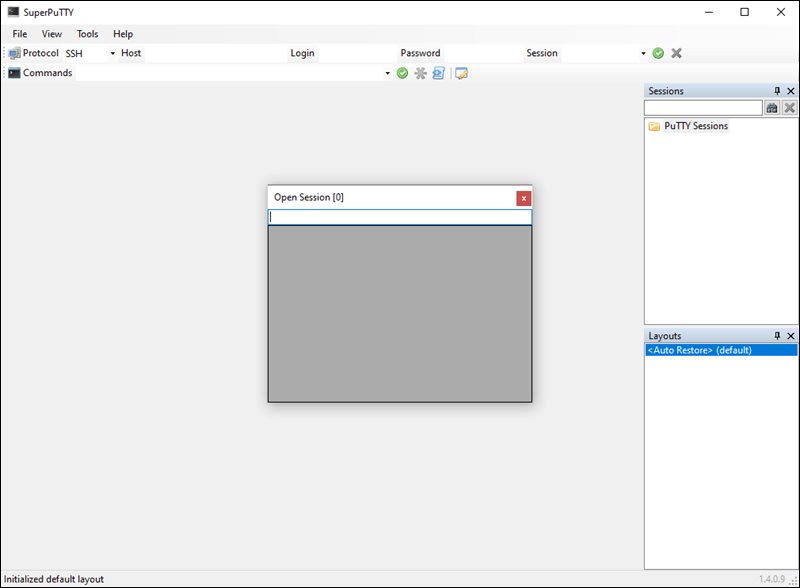 Key features:
Offers a customizable GUI, facilitating the use of multiple tabs for efficient multitasking.
Incorporates options for setting keyboard shortcuts, and promoting personalized navigation.
Basic scripting capabilities enhance automation.
Supports a diverse range of protocols, including SSH, Telnet, rLogin, RAW, SCP, and SFTP.
Pros:
Users accustomed to PuTTY will find the user interface familiar and intuitive.
Expands the spectrum of available protocols, accommodating diverse connection needs.
Cons:
Exclusive to Windows systems, limiting cross-platform accessibility.
Not an optimal choice for those seeking advanced features, as SuperPuTTY focuses on providing a user-friendly interface and essential functionality.
Option 10. WinSCP
WinSCP emerges as a versatile file transfer utility, specifically designed for Windows systems. Boasting an impressive download count of over 184 million times, this free-to-use tool has earned widespread popularity. Although SCP, the protocol on which it is based, lacks remote command capabilities, WinSCP proves to be one of the best PuTTY alternatives for Windows, offering an array of unique features.
Key features:
Enables secure file transfers via SCP and SFTP protocols, ensuring data integrity.
Facilitates SSH-protected remote commands, empowering users with remote management capabilities.
Includes WebDAV support, expanding its utility for diverse file transfer needs.
Pros:
Surpasses PuTTY in terms of features, owing to its primary focus as a file transfer utility.
A navigable user interface appeals to those who prefer graphical interactions over a command-line interface.
Equipped with a remote command option for SSH, enhancing its versatility.
Cons:
Restricted to Windows systems, limiting its cross-platform accessibility.
May not be as lightweight as purely command-line-based tools, potentially affecting resource consumption.
For traditional PuTTY users, the graphical user interface might feel slower than the swift experience of directly typing commands.
AnyViewer: The best GUI remote desktop software
If you find command-line tools challenging to handle, look no further than AnyViewer. It serves as a free GUI remote desktop and file transfer software, available for Windows, iOS, and Android platforms. Notably feature-rich, AnyViewer encompasses text chat, remote shutdown, multi-monitor switch, and more.
Discover how simple it is to access another computer using AnyViewer remotely:
Step 1. Install and Launch AnyViewer
Commence the process by installing AnyViewer on both computers you wish to connect. Access the login page and proceed to Sign up. For existing users, a direct login option is available.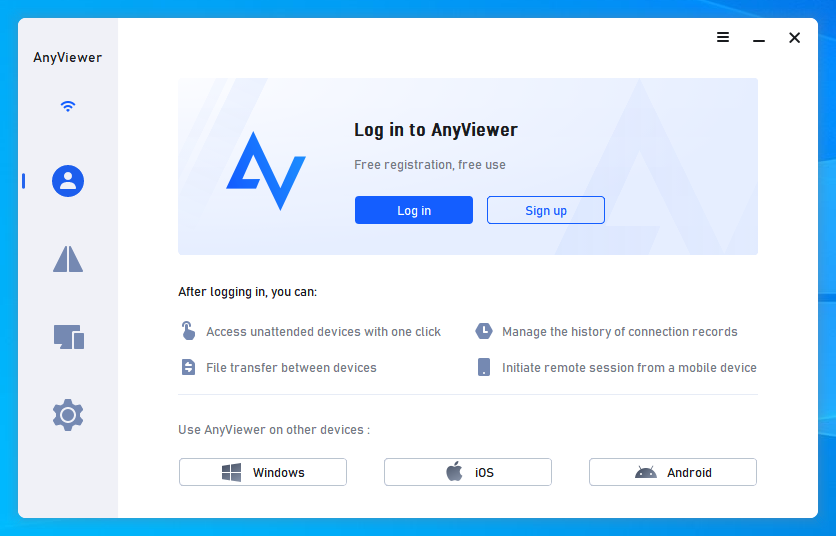 Step 2. Create Your AnyViewer Account
Furnish the necessary information during sign-up, and effortlessly create your personalized AnyViewer account.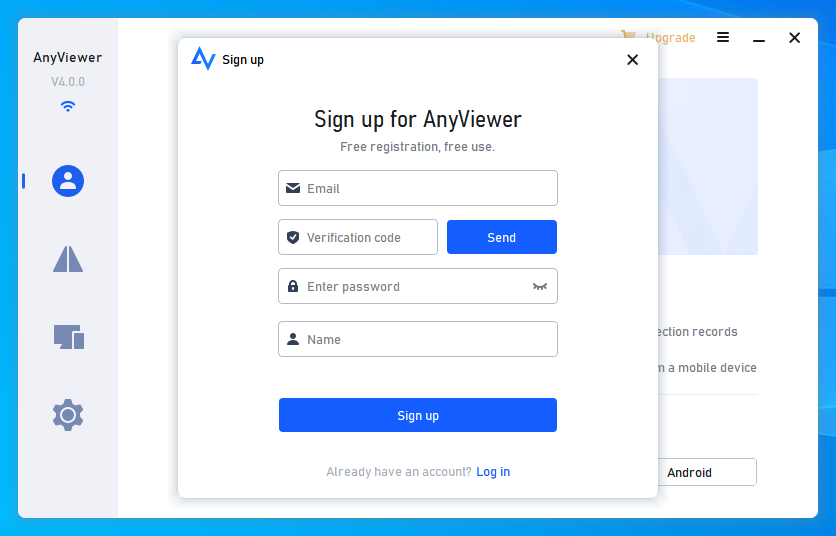 Step 3. Successful Login Confirmation
Upon successful login, you'll receive a confirmation of access to AnyViewer. Your device will automatically be linked to your account.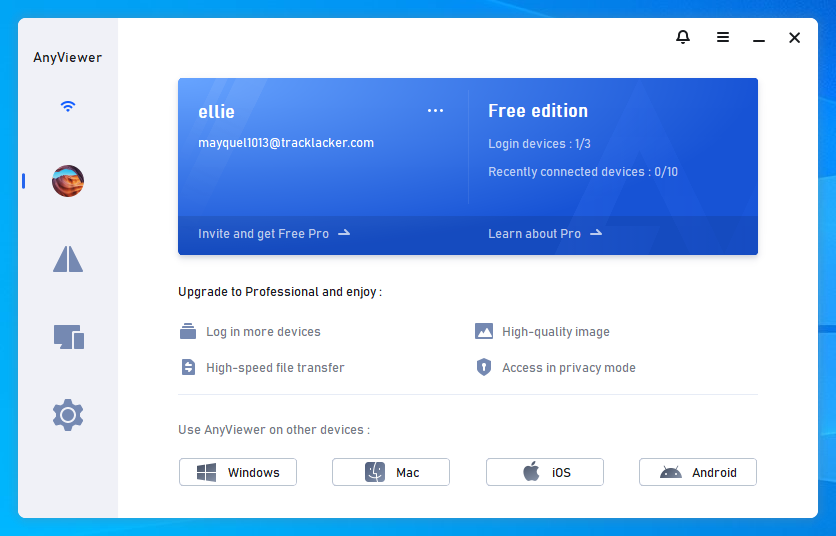 Step 4. Establish Connection
Log in to the same AnyViewer account on both computers. Within the Devices section, select the specific computer you wish to access remotely. A single click on One-click control initiates the connection seamlessly.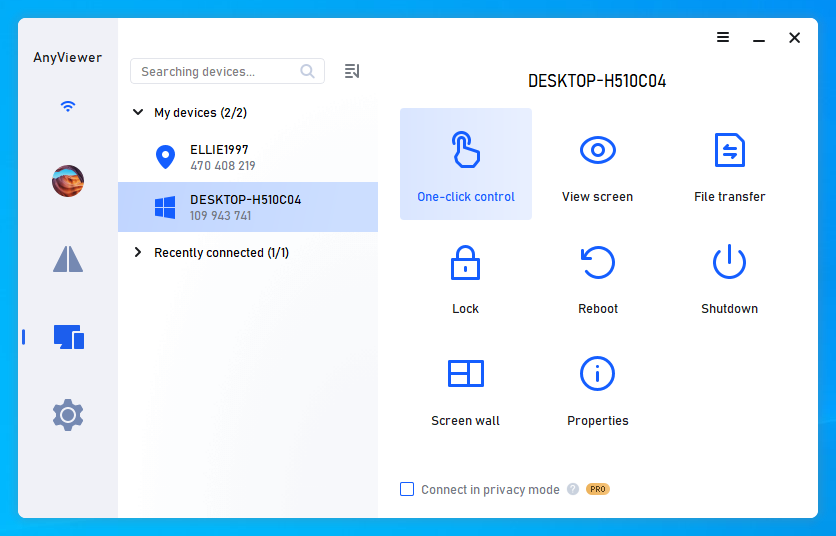 ★Tips: Upgrading your account to a Professional or Enterprise plan unlocks additional privileges and benefits:

Increased device assignment: Assign more devices to your account for unattended remote access.
Concurrent remote sessions: Manage multiple connections simultaneously, enabling concurrent remote sessions.
Faster file transfer speeds: Experience accelerated file transfers, ensuring efficient data exchange during remote sessions.
Privacy mode: Connect to another computer privately by blacking out the remote screen and blocking mouse and keyboard access for enhanced security.
...
The bottom line
In conclusion, for those seeking a user-friendly PuTTY alternative for Windows, here are ten options. For those seeking a GUI remote desktop and file transfer tool, AnyViewer emerges as the ideal choice. With its intuitive GUI, extensive features, and seamless remote desktop and file transfer capabilities, AnyViewer stands out as the best option. Whether it's text chat, multi-monitor support, or remote shutdown, AnyViewer delivers a comprehensive remote access experience.