Remote Desktop licensing mode is not configured
My RDP server has been giving me trouble lately. I'm not entirely sure about the actions required to resolve the error message, as it disappears before I can read it completely. The server runs on Windows Server 2019 and is used for remote tasks like checking email and using Microsoft Dynamics. What should I do to fix this?"
- Question from Spiceworks
The complete error notification reads as follows: "Remote Desktop licensing mode is not configured. Remote Desktop Services will stop working in xx days. On the RD Connection Broker server, use Server Manager to specify the Remote Desktop licensing mode and the license server". The variable "xx" signifies the remaining duration in days before the issue manifests.
What causes the "Remote Desktop licensing mode is not configured" error?
Every device or user aiming to establish a connection with a remote desktop session host requires a Client Access License (CAL). This CAL assists in the installation and management of licenses across various machines. Microsoft allows a 120-day grace period during which no license is necessary. Once this grace period expires, a client must possess a CAL to log into a remote desktop via the RD Session Host server.
The notification of "Remote Desktop licensing mode is not configured" serves as a reminder to procure a license if you wish to extend your access beyond this grace period. It's worth noting that this notification acts as a mere prompt and doesn't impede your entry into the remote desktop service. Nevertheless, exceeding the 120-day grace period leads to the transformation of this notification into an error. Subsequently, acquiring a license becomes imperative to maintain uninterrupted access.
While this represents the predominant cause of the "Remote Desktop licensing mode is not configured" error, there exist other potential factors. For instance, incorrect settings within the Registry, Group Policy Object (GPO) configurations, or an incompatible RDS CAL license can also contribute to this error.
How to fix Remote Desktop licensing mode is not configured [5 solutions]
Below are five useful solutions below for you to fix the "Remote Desktop licensing mode is not configured" on Server 2019 and 2022.
Solution 1. Check the Registry setting
To rectify the error message "Remote Desktop Services will stop working in xx days" and alter the licensing mode for the Remote Desktop session host, follow these steps using the registry editor:
Step 1. Begin by pressing the Windows + R keys simultaneously, and input "regedit" in the Run dialog box. Subsequently, press the Enter key.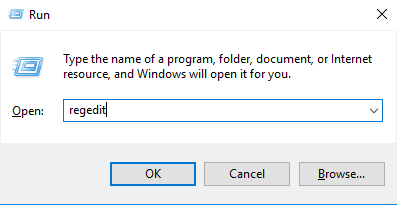 Step 2. In the Registry Editor's left pane, navigate through the following sequence: HKLM > SYSTEM > CurrentControlSet > Control > Terminal Server > RCM > Licensing Core.
Step 3. In the right pane, initiate a double-click on "LicensingMode" to modify its value. Proceed to adjust the "Value data" as per your specific requirement:
Assign a "Value data" of 2 for Per Device RDS licensing mode.
Assign a "Value data" of 4 for Per User RDS licensing mode.
Step 4. Confirm your changes by clicking the OK button, thereby saving the modifications.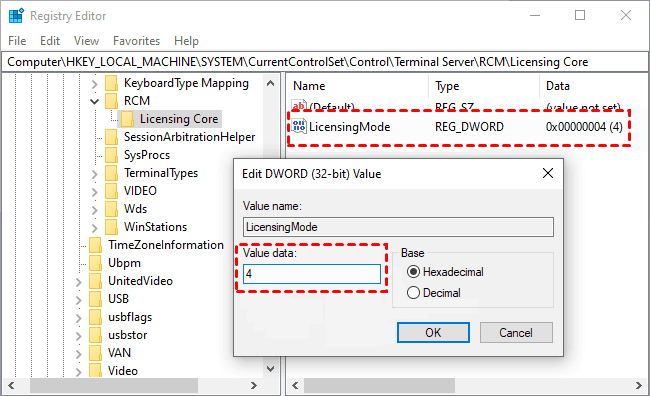 Step 5. To finalize the process, restart your computer. Subsequently, verify whether the issue of the "Remote Desktop licensing mode is not configured" on Windows Server has been effectively resolved.
Upon the completion of the licensing mode adjustment, the reporting accuracy will be reinstated, and the Remote Desktop session host will appropriately recognize the revised licensing configuration.
Solution 2. Check the Group Policy Object (GPO) setting
If your RDS server operates within a workgroup that lacks a connection to the Active Directory domain, it's necessary to configure the RDS license via the local Group Policy Editor. Here's a step-by-step guide:
Step 1. Access the Run dialog and input "gpedit.msc" to initiate the Group Policy Editor.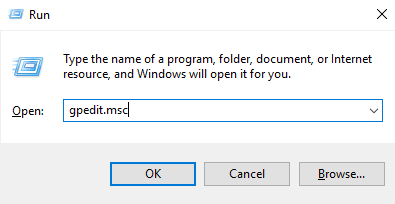 Step 2. Progress through the following pathway within the Group Policy Editor: Computer Configuration > Administrative Templates > Windows Components > Remote Desktop Services > Remote Desktop Session Host > Licensing.
Step 3. Determine the licensing mode. Navigate to "Set the Remote Desktop Licensing Mode," right-click, and choose Properties.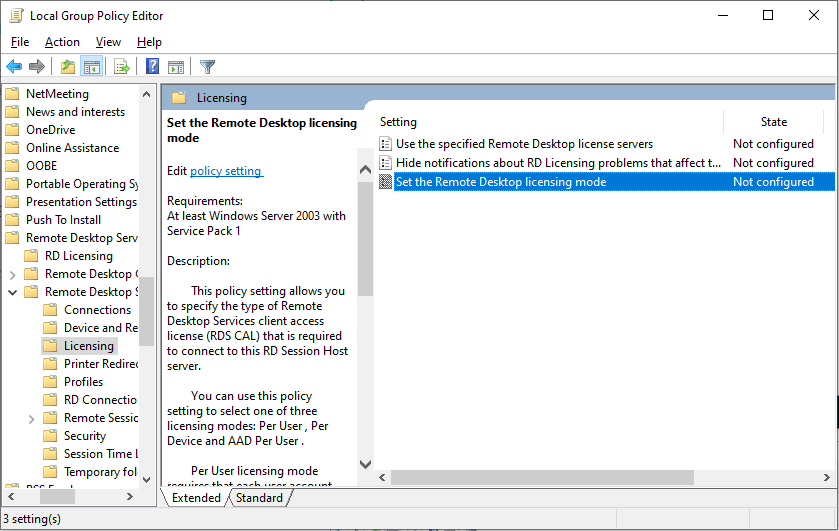 Step 4. Confirm that the "Enabled" radio button is activated. If not, proceed to select this radio button.
Step 5. Continue to the "Specify the licensing mode for the RD session host server" section and opt for either "Per User" or "Per Device," in alignment with your specific license mode.
Step 6. Execute a double-click on the "Use the specified Remote Desktop license servers" setting. Subsequently, opt for the Enabled option. Enter the license server names (host name or IP address) and finalize by clicking the OK button.
Step 7. Preserve your settings and exit the Group Policy Editor.
Solution 3. Check the Compatibility
It's crucial to verify the compatibility of your RDS CAL license, as it lacks backward compatibility. This step is often straightforward yet frequently overlooked.
Should your CAL possess a higher version than your Windows Server, contemplate either upgrading your device or procuring a CAL that aligns with the version you currently possess. This approach ensures seamless compatibility and eliminates potential compatibility issues that might arise.
Solution 4. Use the appropriate type of RDS CAL
Occasionally, the occurrence of the "remote desktop licensing mode is not configured" error can be attributed to the utilization of an improper CAL type within your RDS environment.
Typically, both per-user and per-device CALs can be employed for domain-joined servers. In contrast, exclusive utilization of per-device CALs is advisable for workgroup servers.
Taking this into consideration, it's advisable to assess whether you're employing the suitable CAL for your connection needs. This prudent step ensures the proper functioning of your remote desktop setup while mitigating the potential for encountering the aforementioned error.
Solution 5. Try a free Remote Desktop alternative
Consider the optimal route of adopting an alternative to Remote Desktop, such as AnyViewer. AnyViewer stands as a complimentary remote access software that boasts an array of functionalities for seamless remote access, control, and assistance. Among its notable attributes are file transfer, text chat, and support for multiple sessions.
AnyViewer exhibits remarkable compatibility with various Windows versions, spanning from Windows Server 2012 R2 to Windows Server 2022, as well as encompassing Windows 7 to Windows 11. Notably, AnyViewer's standout advantage lies in its exemption from the requirement of purchasing CALs. It is entirely cost-free for Windows users, thereby eliminating the need for additional expenditure.
Step 1. Install AnyViewer on both the computers you intend to link.
Step 2. Register for an AnyViewer account or log in if you already possess one.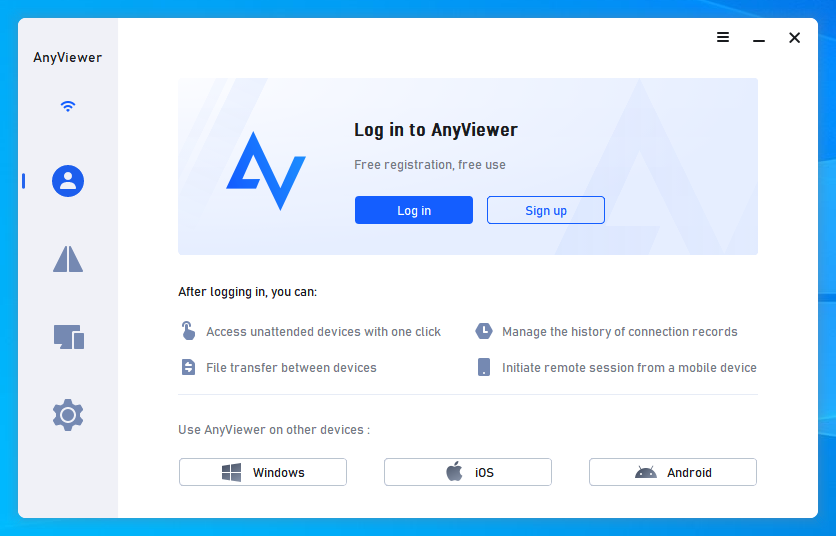 Step 3. Confirm a successful login and establish the association of your devices with your account.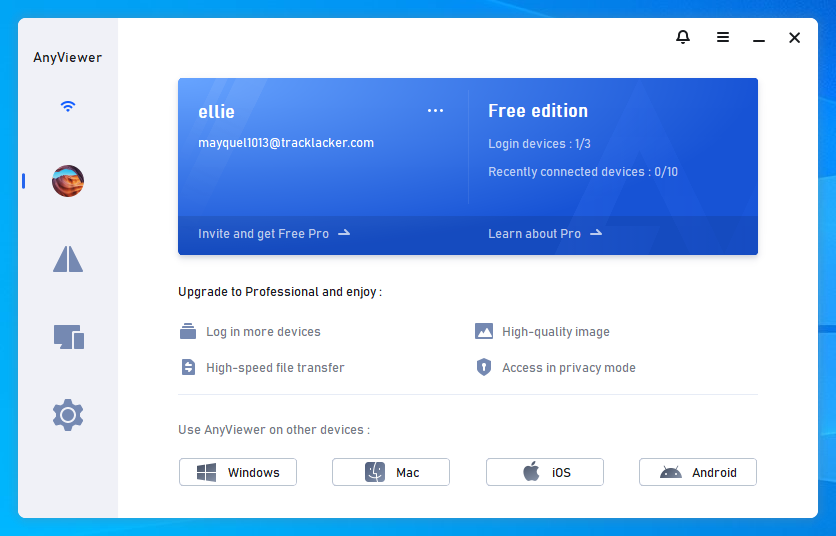 Step 4. Within the "Devices" section, identify and select the specific remote computer to which you desire connection.
Step 5. Initiate the connection process by clicking on "One-click control," streamlining the establishment of a link between the chosen devices.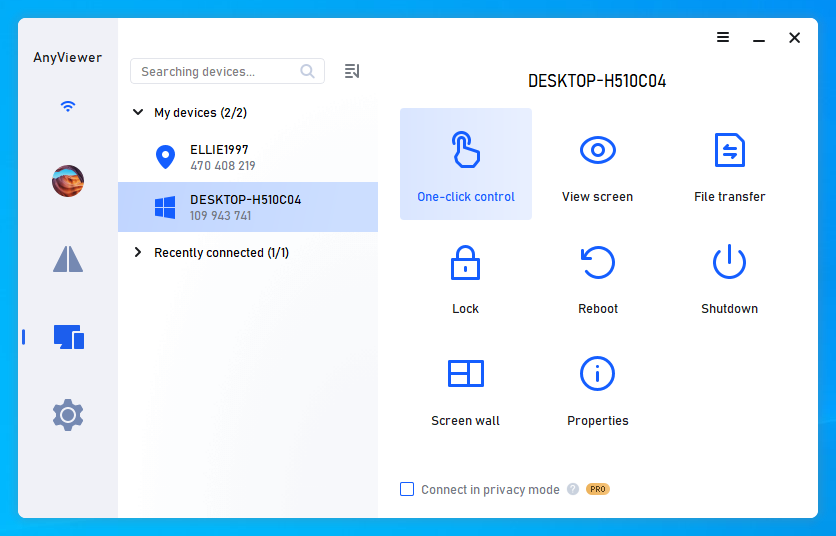 ★Tips:

It's important to note that embracing a Professional or Enterprise plan within AnyViewer offers a range of invaluable advantages, including:

Greater allocations for unattended access device assignments.
Efficient management of concurrent remote sessions.
Accelerated speeds for file transfers.
The inclusion of a privacy mode ensures secure and confidential connections.
...
The bottom line
By implementing these five solutions, you can effectively address the "Remote Desktop licensing mode is not configured" error, ensuring uninterrupted access to remote desktop services. Whether adjusting registry settings, configuring GPOs, ensuring compatibility, using the right CAL type, or exploring alternative solutions, you have the tools to maintain seamless connections and enhance your remote work experience.