RDP error 0x904 & extended error 0x7 after Windows 11 upgrade
I recently switched from Windows 10 to Windows 11, and everything appears to be operating OK except RDP. I'm connected to RDP over VPN and have tried various servers and PCs. I get the request to input my credentials, followed by an error message. Did anyone else experience the same problem following the upgrade?"
- Question from Spiceworks
How to fix Remote Desktop 0x904 error & extended error 0x7
In modern versions of Windows 10/11 and Windows Server 2016/2019/2022, you may encounter a common RDP connection error: Remote Desktop 0x904 and extended error 0x7. If you're pretty sure that remote access is enabled on the remote computer, you can use the following 2 solutions to fix it.
Solution 1. Allow Remote Desktop through Firewall
Check your firewall to confirm that it has allowed Remote Desktop on both the source and destination computers.
Step 1. Press Win + S, then enter "Allow an app through Windows Firewall". Click Open.
Step 2. Click Change settings and then check both Remote Desktop and Remote Desktop (WebSocket).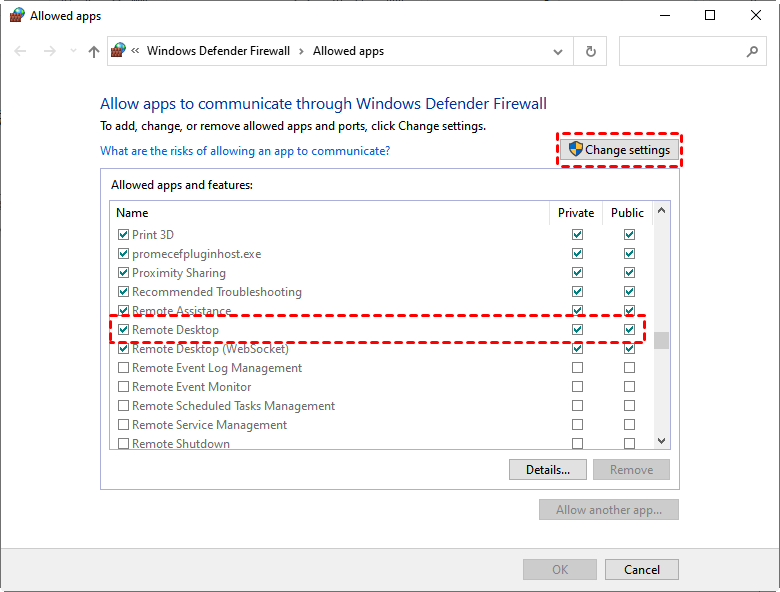 Step 3. Then click Allow another app.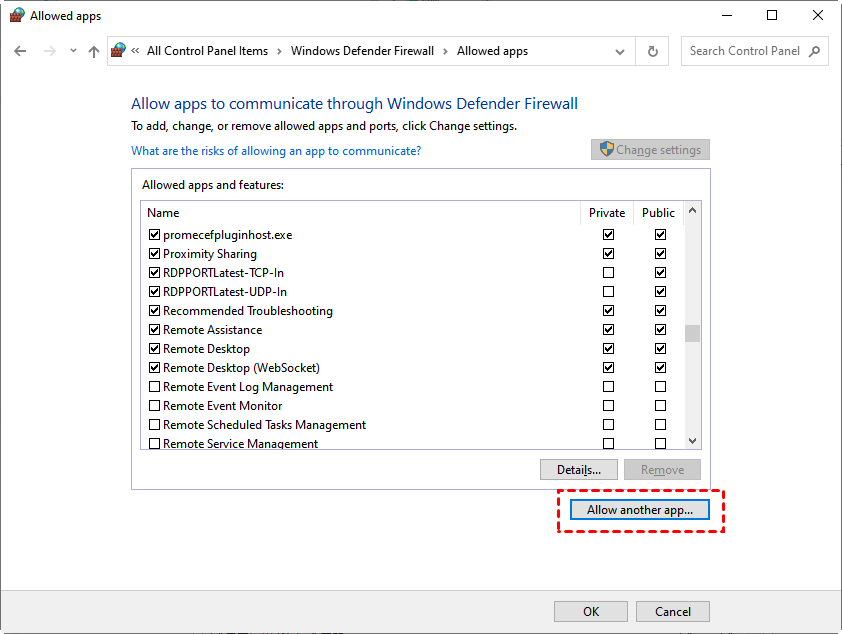 Step 4. Click Browse, then go to C:\Windows\System32\mstsc.exe. Click Open.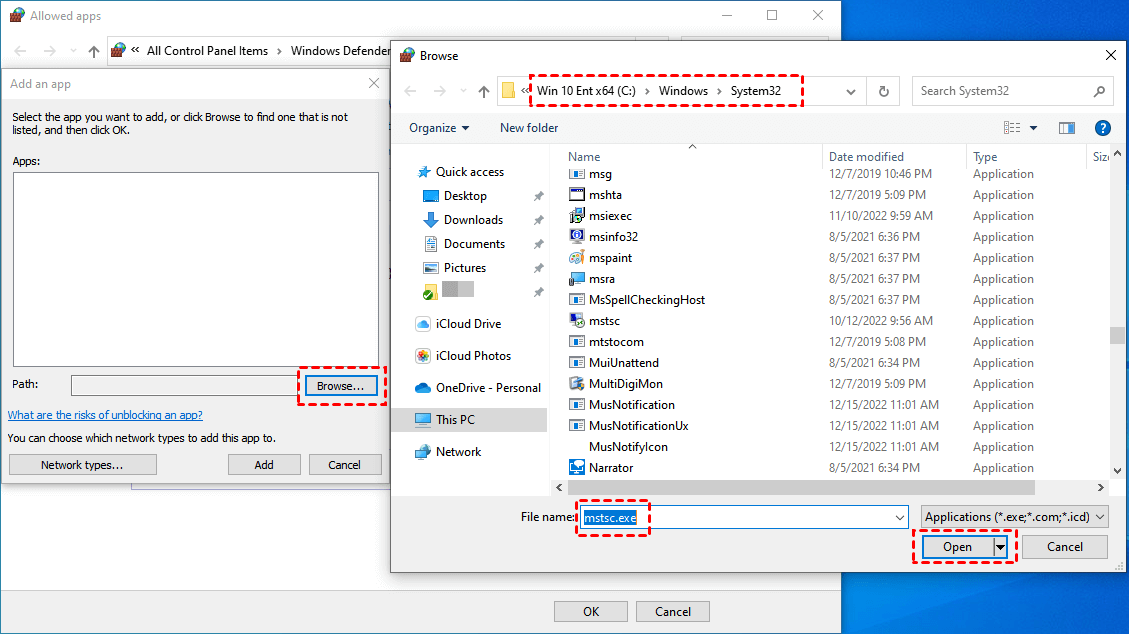 Step 5. Then you can see Remote Desktop Connection in the list, click Add.
Step 6. Remote Desktop Connection will be added to the app list, tick both Private and Public boxes. Then click OK.
Solution 2. Check your network/VPN connection
The Microsoft Remote Desktop 0x904 error usually happens while connecting to RDP via an unstable network connection (insufficient bandwidth, missing packages, mismatched encryption cyphers, etc.) or when your VPN connection to a business network is too sluggish. Reconnect to your VPN workplace or switch Internet Service Providers.
Bonus tip: Best Remote Desktopalternative
Hope the above solutions can help you fix the 0x904 error Remote Desktop on Windows 11. However, if this is not the case, you may require a Remote Desktop alternative. AnyViewer is a free remote desktop program that is compatible with Windows, iOS, and Android. For the following reasons, it is deemed to as the finest Remote Desktop replacement:
AnyViewer is simpler to use. AnyViewer does not require an IP address or a computer name to establish remote connections, but Remote Desktop does.
AnyViewer has fewer constraints. Remote Desktop needs both machines to be on the same network, unless you use a VPN, whereas AnyViewer can be used over the internet.
AnyViewer works well with more versions of Windows. Remote Desktop does not support connecting to PCs running Windows Home and Standard editions, while AnyViewer does.
Step 1. On both computers, download, install, and launch AnyViewer. Go to Log in on the Controller computer, and then click Sign up (if you have already signed up on its official website, you can log in directly).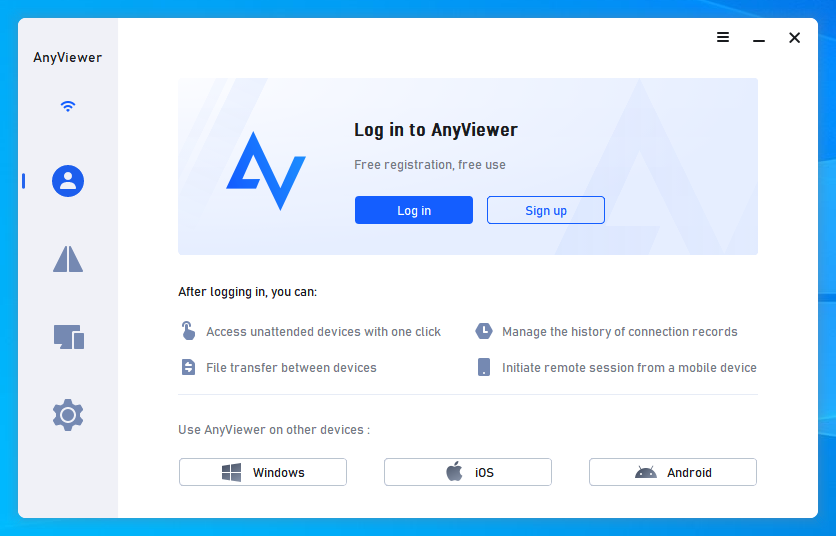 Step 2. Fill out the signup form.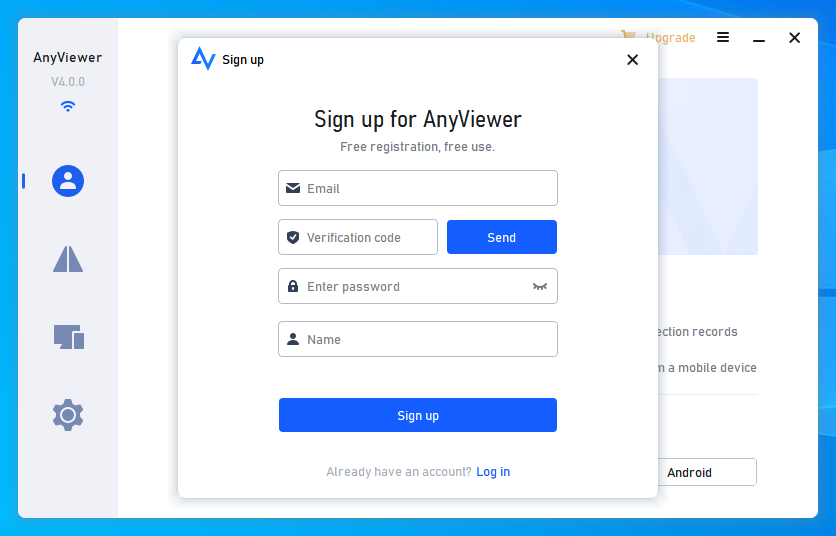 Step 3. You should now see that you have successfully logged into AnyViewer. Your device will be assigned to the account to which you have logged in automatically.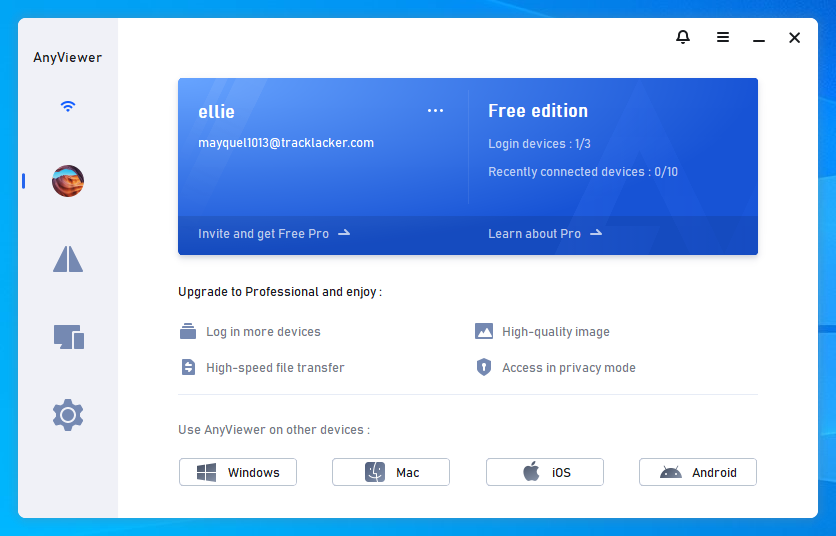 Step 4. Sign in with the same AnyViewer account on both computers, then click the One-click control for unattended remote access.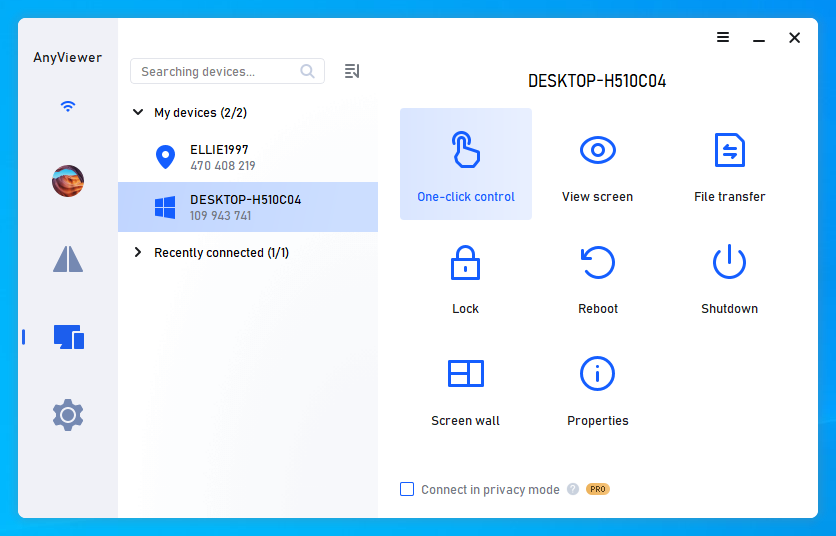 Step 5. The remote desktop will appear once the connection is established. After that, you have complete control over it.
Notes:✎...

It is recommended to upgrade your account to a Professional or Enterprise plan. What can a professional or enterprise plan brings to you:

More devices can be assigned to the same account for unattended remote support.
Connect in privacy mode to protect your privacy. This means the Controller can black out the remote PC screen and disable the remote keyboard and mouse click.
File transfer speed will be increased. Transfer speed is 500 KB/s for a free account and up to 10 MB/s for a paid account.
Closing words
This post primarily introduces 2 solutions to fix Microsoft Remote Desktop 0x904 error and extended error 0x7. You can also try a Remote Desktop alternative. The one we highly recommend is AnyViewer. If you're looking for an easier way to remotely access another computer from anywhere, try it right now.