How do I transfer videos from my phone to my computer?
I have some videos on my phone that I'd like to back up to my computer. What is the simplest approach to accomplish this?"
- Question from Reddit
File transfer between computers is easy. But things can be complex when transferring videos from phone to computer. You'll need to use different methods. depending on which type of mobile device, iPhone or Android
How to transfer videos from phone to computer [5 methods]
Let's check out how to transfer videos from phone to computer. Ways for both iPhone and Android devices are introduced.
Method 1. Transfer videos from iPhone/Android to computer using a USB cable
Whether you're using an iPhone or an Android phone, you can use a USB cable to directly transfer videos between your phone and computer. Here's how to transfer videos from phone to computer with USB.
Step 1. Connect your phone to any available USB connection on your computer. Swipe down from the top of the screen and select Changing this device via USB > This device > File transfer.
Step 2. Your phone will now start showing up in the computer's File Explorer. You can then drag and drop videos between your phone and computer.
Method 2. Transfer videos from iPhone/Android to computer via Bluetooth
If you don't have a USB, you can use Bluetooth. Here's how to transfer videos from phone to computer without USB.
Step 1. From the top of the phone screen, swipe down to find the Bluetooth icon and turn it on.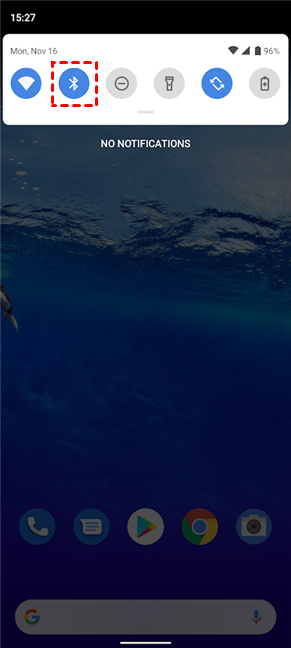 Step 2. Go to Start > Settings > Bluetooth on your PC. Your phone device should appear in the device list. Choose the Pair adjacent to it.
Step 3. Now your phone and computer are connected via Bluetooth. Choose the video you want to transfer, use the Share button, and select Bluetooth to share the video.
Method 3. Sync iPhone/Android videos with computer using cloud storage services
Both USB and Bluetooth have distance requirements for the two devices. If you need to transfer videos remotely from iPhone or Android to a computer, you can use cloud storage services, for example, OneDrive, Google Drive, Google Photo, iCloud, etc. Here we'll take Google Drive as an example.
Step 1. On your phone, please download Google Drive from your app store.
Step 2. Log in to the app with your Google account. Otherwise, you must sign up for a personal Google account on the primary page.
Step 3. Tap the "Plus" icon on the interface to choose the Upload option. Next, choose Upload photos or videos. You will select the videos on your phone to upload on Google Drive.
Step 4. Navigate to your computer's Google Drive official website and sign in using your Google account. Download the videos you just uploaded.
Method 4. Transfer iPhone/Android videos to computer via file transfer tools
You can also transfer iPhone or Android videos to a computer via a professional third-party file transfer tool, for example, AirDroid.
Step 1. Visit AirDroid's web page from your computer and create an account.
Step 2. Download the AirDroid Personal App from the app store on your phone and sign in to your AirDroid account.
Step 3. To finish the permission authority, follow the instructions. Make sure to make Files accessible.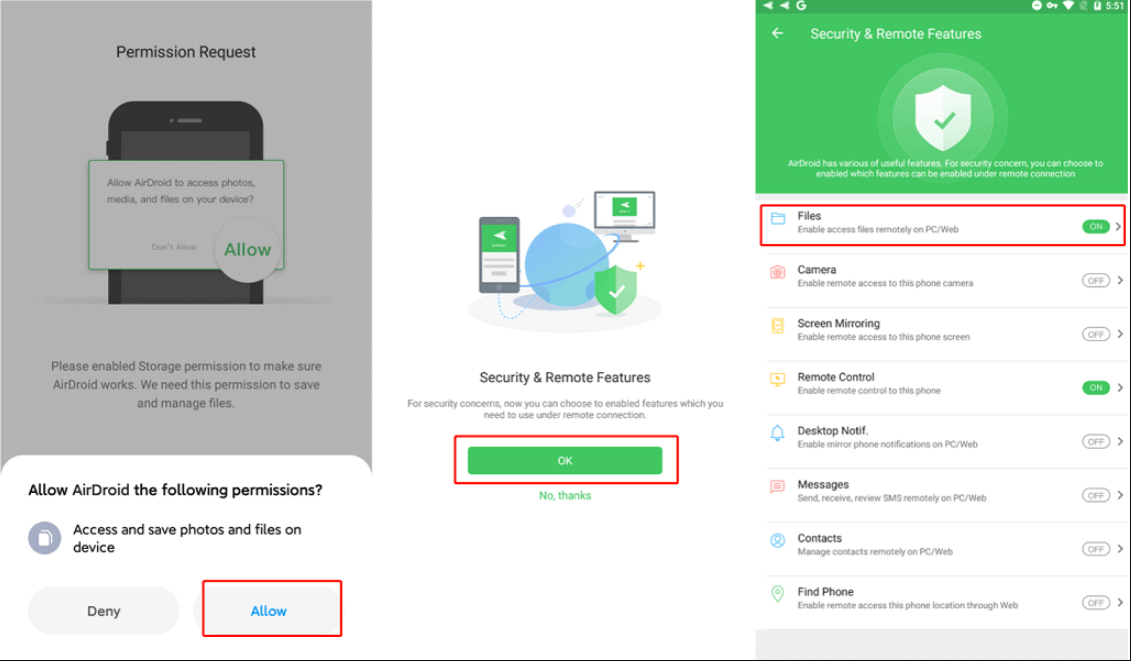 Step 4. From AirDroid Transfer, find and choose your computer. Use the paper clip icon to browse and select videos for sending to the computer or drag and drop to move videos.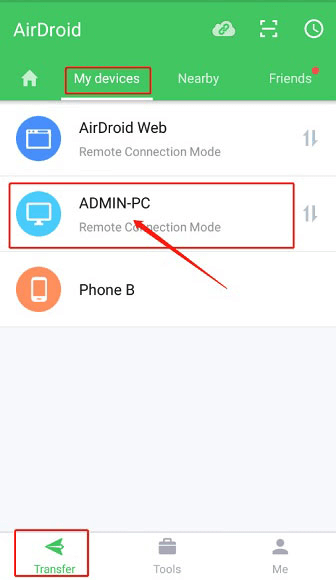 Method 5. Transfer Android videos to a Mac
Transferring videos from iPhone to a Mac is easy. You need a USB to connect your iPhone to your Mac and import videos. If you need to transfer Android videos to a Mac, follow the steps below.
Step 1. Please navigate to the main Android File Transfer website and download it. Following that, run the installer and drag the Android File Transfer icon into the Applications folder.
Step 2. Connect the Android device to the Mac using the USB cord, ensuring the screen is unlocked.
Step 3. The software will automatically open when you plug your device in after the first time doing so. Browse the videos on your Android device, copy them, and paste them onto your Mac.
Bonus tip: How to access computer videos from iPhone & Android
If you need to view computer videos from your phone remotely, it is strongly recommended to use AnyViewer. AnyViewer is a free remote desktop application for Windows, Android, and iOS. With AnyViewer, you can fully access almost everything, including videos on the Windows PC from your iOS or Android device.
Besides, AnyViewer also supports file transfer. But at present, it just supports PC-to-PC file transfer, which means you can transfer videos remotely from one computer to another. Mobile-to-PC file transfer will be available soon.
Step 1. Download AnyViewer on your Windows computer.
Step 2. Launch AnyViewer on your computer. Click Sign up to register a new account and log in.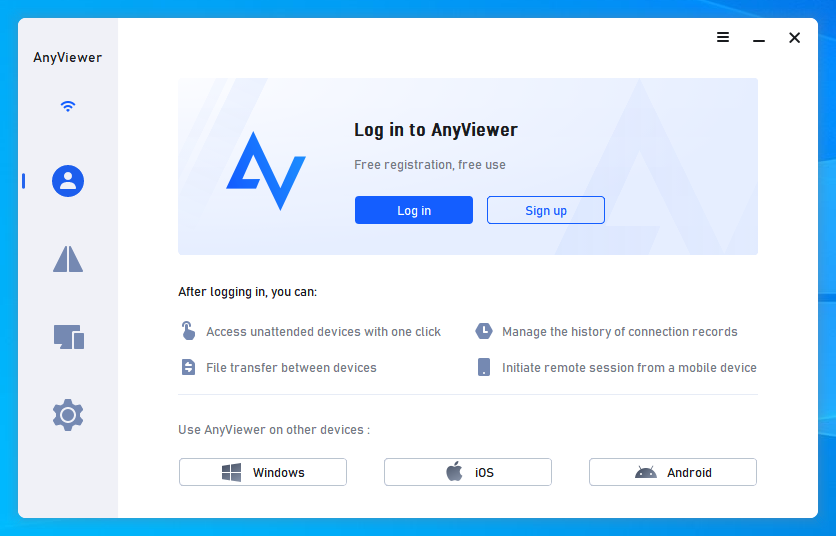 Step 3. Download AnyViewer for mobile on your Android and log in to the same account as you did on your computer.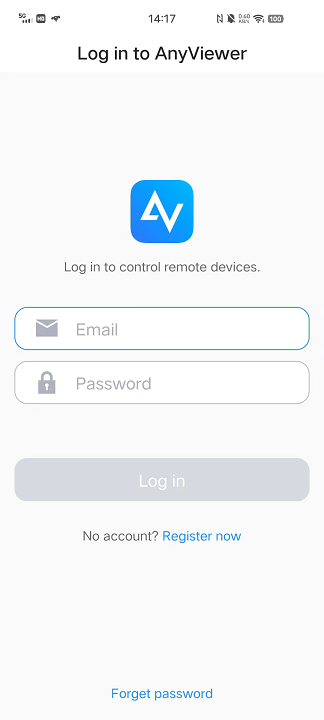 Step 4. Go to the Device tab, select the computer you want to connect to, and click One-click control.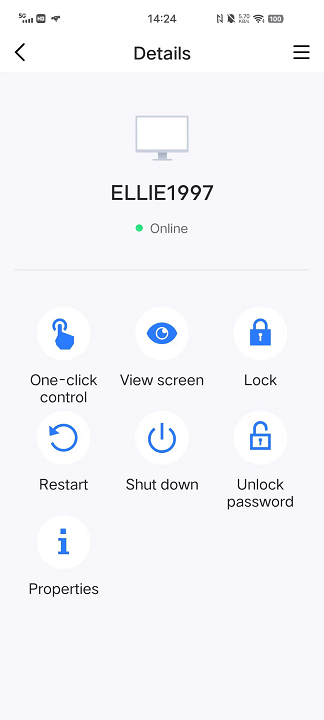 Step 5. Then you can control your Windows computer from your phone and access videos on it.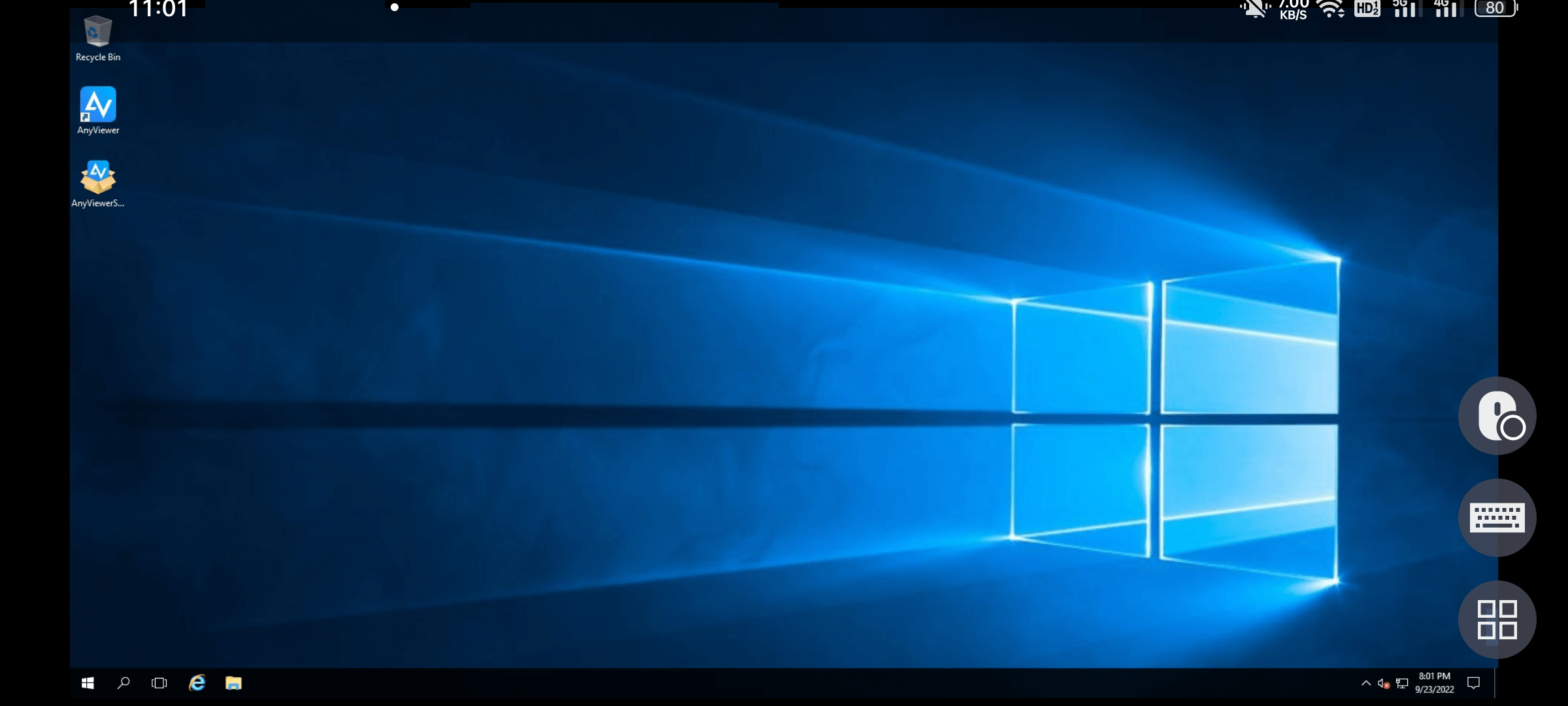 Note: It is recommended to upgrade your account to a professional or enterprise plan to enjoy privacy mode and higher image quality.
Conclusions
This post introduces five methods on how to transfer videos from phone to computer; both iPhone and Android are included. Choose suitable methods according to your situation.
If you want to view computer videos from iPhone or Android remotely, you can use AnyViewer. It is the best free remote desktop software allowing you to access everything on a computer from a phone remotely. You can also transfer videos between two computers via Android.