Is there a scam involving AnyDesk?
My parents just called me. According to what I could gather from my dad, he set up an AnyDesk session with a stranger and ran it for a while before deciding to turn off his computer.Is there an AnyDesk scam? What steps can I take to prevent data loss? What if my dad has already been scammed?"
- Question from a user
There is no official scam at AnyDesk. The AnyDesk program is reliable and carefully guards your personal information. It's the AnyDesk remote access scam, in which the scammers pretend to have access to your phone or computer to access your personal information and steal money.
How do AnyDesk scams work? [3 common cases]
AnyDesk is a well-known remote desktop solution that allows users to connect to nearly any device from any location and at any time as long as they have an Internet connection. Due to the popularity of this remote desktop program, AnyDesk app scams have proliferated to deceive users into granting unauthorized access to their devices, workplace networks, or other systems. The following are some common cases.
Case 1. Installing a fraudulent AnyDesk program
A hacker could pretend to be a bank customer service representative and call to inform you that your account has been frozen due to a significant issue. They want to give you as much remote assistance as possible to solve the problem.
Once they have earned your trust, they will ask you to download AnyDesk from the Google Play Store or the Apple App Store. The AnyDesk generates a PIN after installation that must be shared to grant access to your device. If you give the hacker access to this PIN, they can take whatever actions they choose with your device. As a result, AnyDesk malware is frequently used to access your accounts and steal login information.
Case 2. Amazon AnyDesk scam
A fraudulent Amazon employee can claim your account has been compromised. They warn you that there can be severe financial consequences if you don't take urgent action to solve this issue.
The hacker then asks you to download AnyDesk and install it on your device so they can fix the issues for you. There is no justification for an Amazon customer service representative to control your device remotely, so take this as a caution. Any problems with the account can be resolved through Amazon's systems.
Once they have access to your device, malicious software may be installed on it as well as account details.
Case 3. AnyDesk tech support scam
You receive an unexpected call from a technical support team informing you of an urgent issue that requires immediate attention. When utilizing an Apple device, you might even receive a call from a fictitious Microsoft Windows support team.
Alternatively, you receive a notification through email or text message that your account has been locked due to suspicious conduct. The notification directs you to log into your account immediately to fix the mistake and gives a link to what appears to be a trustworthy website. The URL might download malware that gives a hacker access to your login information.
How to avoid AnyDesk remote access scams
Here is some general advice for preventing scams on securing your money, bank information, and personal information.
►Never allow a stranger access to your device. Don't fall victim if an IT or computer software business calls you. Put the phone down.
►Never disclose your device passwords to anybody else.
►Change your passwords frequently on your device and across all your accounts, including those with your bank and credit card company. Use a password monitoring service if you can. You would need one primary password with such a service, which would regularly change all your passwords automatically.
►Before you click, pay great attention to the URL addresses because this is a classic scam. The URL appears familiar, yet there will be a difference, like a misspelled word.
What to do if you've been scammed
There are still ways to recover from a remote access scam, even if you have previously fallen victim to one.
►If you provided the con artist with a payment method, contact the financial institution that supports it. While it could be challenging to get money back that was taken directly out of your bank account, disputing fraudulent credit card charges is frequently rather simple. Credit cards typically have greater security protections for users.
►Wipe your hard drive, then reinstall your operating system from scratch. If you have a Windows computer, you can use the System Restore feature or a professional data recovery program, such as MyRecover, to restore your machine to a point before the scam, which can undo the malware that the scammer placed.You can also install and run a legitimate malware removal tool to eliminate the malware.
►Disconnect your computer from the Internet just in case the con artist installed a remote access trojan that would allow them to re-connect to your system. Reset all of your passwords, and consider installing ad-blocking software to stop further scam pop-ups.
Bonus tip: The most secure AnyDesk alternative worth trying
Suppose you need to perform remote access on your device frequently but are afraid of encountering an AnyDesk scam. In that case, we recommend you use other secure AnyDesk alternatives to prevent data leakage.
If you have a Windows PC, the best option is the safe and reliable remote desktop software AnyViewer. It keeps data security with end-to-end encryption via strong 256-Bit Elliptic Curve Cryptography (ECC) algorithm, and it has never had a data security issue. As long as you don't give out your account password to anyone, no fraudster can access your device.
AnyViewer also offers a completely free version with more free features than AnyDesk. In addition to unattended remote access, file transfer, and text chat, you can enjoy controlling multiple monitors, concurrent sessions, and remote reboot for free.
Please download AnyViewer on your devices here. It is pretty easy to use!
Step 1. Open AnyViewer on the host device, sign up for a new account and log in.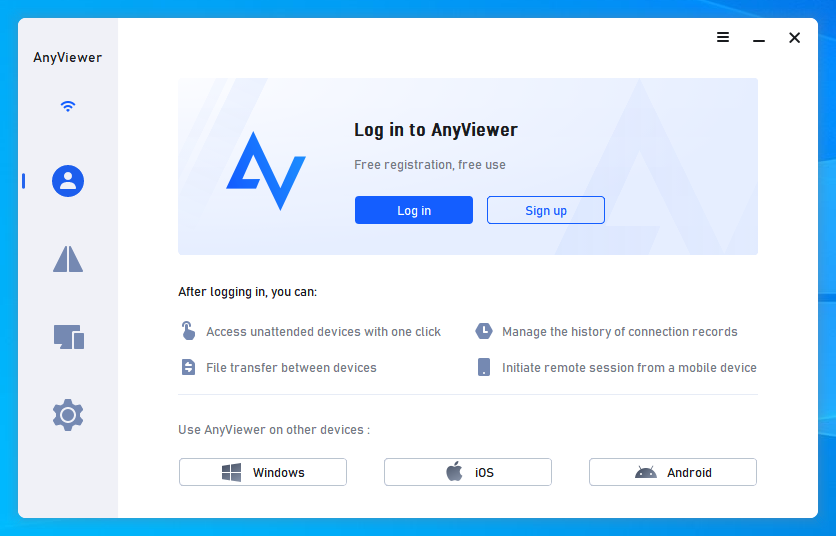 Step 2. Start AnyViewer on the client device and log in with the same credentials you used on the host computer.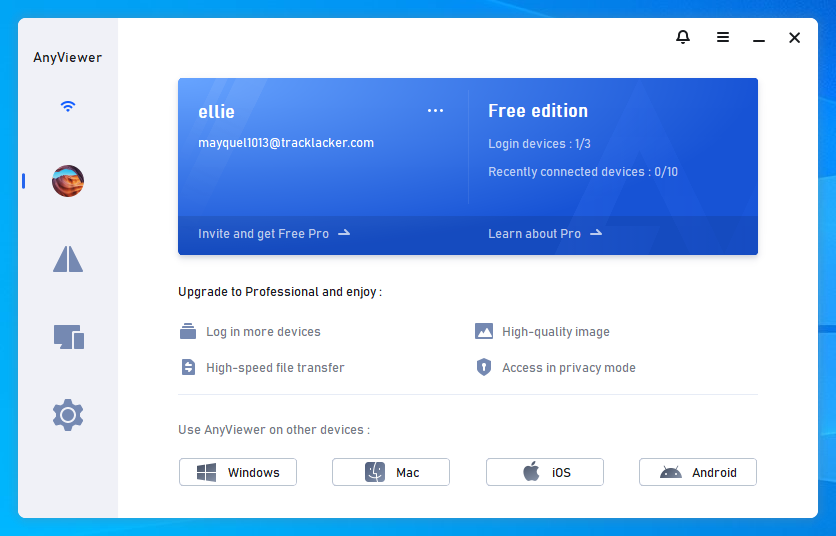 Step 3. Visit the Device interface to see the list of your assigned devices. Select the device you want to connect to and click One-click control to accomplish unattended remote access.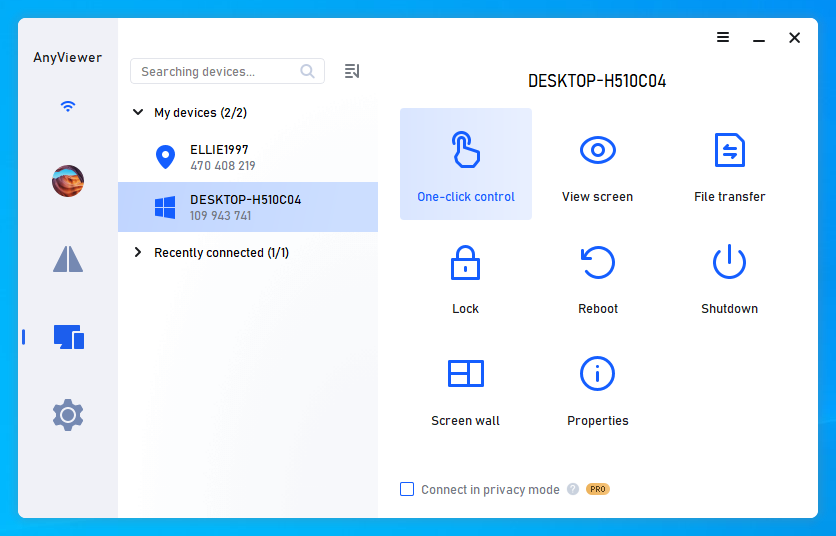 Tips: If you have over two remote computers, we recommend upgrading your account. Then you will be able to access up to 100 unattended devices and control up to 10 devices simultaneously.
Conclusion
Is there an AnyDesk scam? Yes. If not utilized correctly, it can expose you to viruses and fraud. You can lessen the risk by being vigilant when granting others access to your device and taking the necessary measures. Besides, we advise using software with a high level of security, like AnyViewer, to reduce the chances.